Selecting the best ship for your Royal Caribbean cruise can be a difficult task, especially if you've never cruised with Royal Caribbean before.
Royal Caribbean has six classes of ships: Vision Class, Radiance Class, Voyager Class, Freedom Class, Quantum Class, and Oasis Class. Each class comes with its own features, entertainment, layout, and itinerary options.
Whereas some passengers may value adrenaline-filled activities onboard like ziplining and rock climbing, others may be looking for a more traditional cruising experience. Likewise, having an idea of how far you want to travel to reach the cruise departure city, what type of entertainment you prefer, and what you like to do while onboard are all important considerations to make.
Let's take a look at the questions you should be asking yourself prior to selecting a Royal Caribbean ship to ensure you find the best ship for you.
Am I traveling with kids?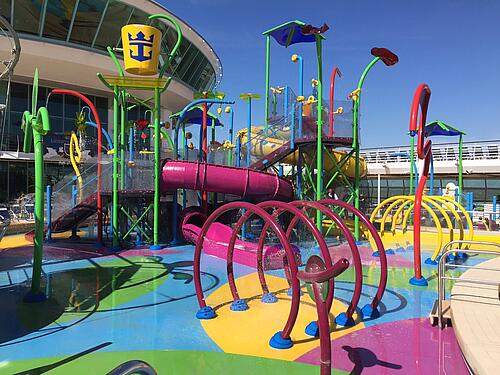 While any Royal Caribbean ship makes for a fantastic family vacation, certain ships simply offer a lot more for kids to do and experience onboard.
Ships may offer water slides, ice skating, bumper cars, circus school, ziplining, the FlowRider, indoor skydiving, and more. Bigger or recently amplified ships will have more activities for kids onboard, but you will find activities like rock climbing, mini golf, and Adventure Ocean programming on all ships.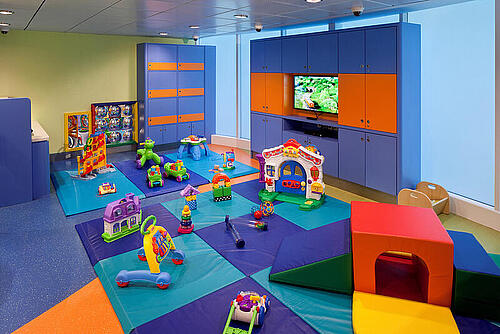 If you're traveling with children aged 6-36 months, you'll want to look for a ship that offers a nursery. The nursery, unlike Adventure Ocean programming for older children, does come at an extra cost, but the price is quite reasonable at $6 – $8 per hour depending on the time of day. 
Passengers with children still in diapers may want to look for a ship with a baby splash pad area so their kids can cool down and enjoy the pool deck. 
How much does itinerary matter?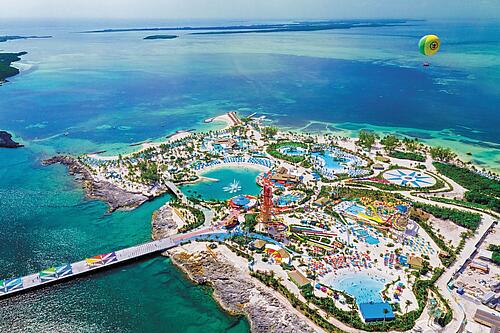 Royal Caribbean offers itineraries to many of the world's most famous attractions and picturesque islands. Whether the crystal blue waters of the Bahamas or historical cities of the Mediterranean, you're guaranteed to visit some incredible destinations while on a Royal Caribbean cruise.
Asking yourself how much the itinerary matters to you on a cruise is a good first step to choosing a ship. Larger ships are more limited in port options compared to Royal Caribbean's smaller ships, which may offer more unique itineraries to lesser-known destinations.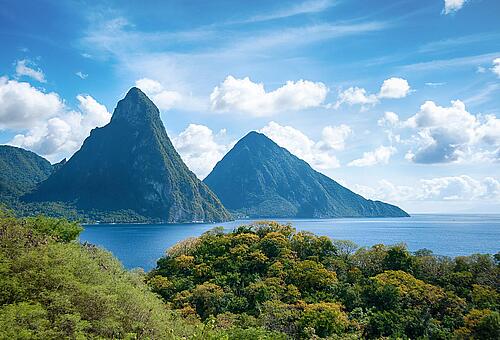 Many Oasis Class cruise ships, for example, tend to visit the same ports in the Caribbean on most itineraries: Cozumel, Puerto Costa Maya, Roatan, Nassau, Perfect Day at CocoCay, St. Maarten, St. Thomas, Labadee, Falmouth, and San Juan.
Some Oasis Class itineraries occasionally make stops at places like Puerto Plata, Aruba, and Curacao, or travel to Europe. For the most part, however, itineraries are not as varied on Oasis Class ships compared to smaller Royal Caribbean ships.
Therefore, if you're hoping to travel to lesser-visited ports such as St. Lucia, Cartagena, Puerto Vallarta, or Martinique, you'll want to look for an itinerary on a smaller cruise ship.
Will I be eating at specialty restaurants?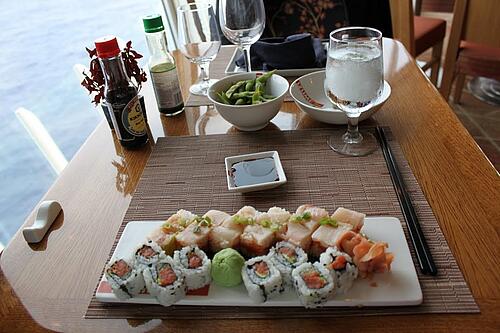 Royal Caribbean offers fantastic complimentary dining options. Whether a sit-down meal in the Main Dining Room or grab-and-go lunch at El Loco Fresh or the Windjammer, there is plenty of food to choose from onboard.
Many passengers prefer to eat at specialty dining, though, in order to take advantage of the wide variety of restaurants available on a Royal Caribbean cruise. Every Royal Caribbean ship has at least one specialty restaurant onboard, with all except one (Enchantment of the Seas) having three or more.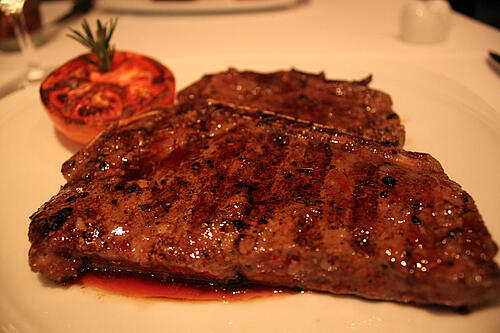 Oasis and Quantum Class ships will have the widest selection of specialty dining options, from the eclectic fare and dining experience found at Wonderland to elegant meals at 150 Central Park. For foodies, larger Royal Caribbean ships can be a great option for the sheer variety of cuisine and restaurant choices available. It's possible to eat dinner at a different venue every night on Royal Caribbean's largest ships and still not try every restaurant!
That being said, even smaller Royal Caribbean ships have enough specialty dining options. Radiance of the Seas, as an example, may be a smaller ship, but still offers specialty dining at Chops Grille, Giovanni's Table, Samba Grill, Izumi, and Chef's Table.
What value do I place on entertainment?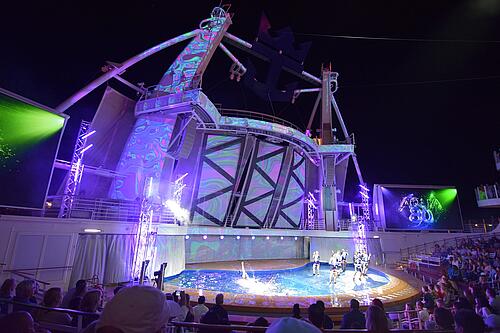 Royal Caribbean prides itself on offering impressive entertainment with talented, professional casts from around the world. From backflips on an ice skating rink to aerialists spinning around a hoop in the air, you're sure to be amazed by the entertainment onboard.
The bigger the Royal Caribbean ship, the more entertainment venues found onboard. Certain passengers value entertainment more than others, so if entertainment is a make or break for you on a cruise, it's important to have an idea of what venues and shows are offered on each type of ship.
If you are hoping to watch full-length Broadway shows and the latest and greatest of technology incorporated into productions, cruising on an Oasis or Quantum Class ship would be a good option.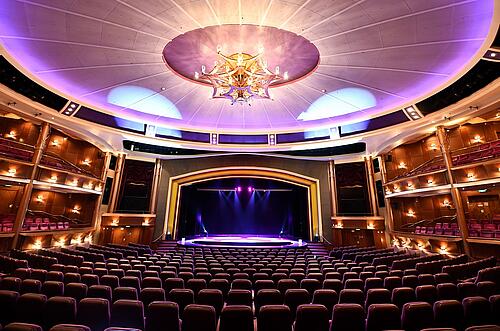 While not the biggest ships in Royal Caribbean's fleet, the Voyager Class offers plenty of options when it comes to entertainment, with the Studio B ice skating rink, main theater, and live music in various venues throughout the ship, from the pub to Boleros.
Vision and Radiance Class cruise ships offer shows in the main theater and live music, but they do not have a separate entertainment venue like Studio B or an AquaTheater. However, many passengers are content with the variety of entertainment options available on smaller ships, with signature theater productions, comedians, game shows, and live music performed throughout the cruise.
What do I like to do while onboard?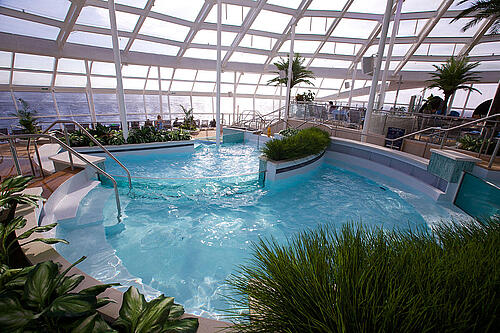 If your idea of a relaxing cruise vacation means spending all day, every day on the pool deck or in the Solarium, you will most likely be happy on any Royal Caribbean ship. Even the smallest of Royal Caribbean's ships offer pools, whirlpools, and adults-only relaxation areas.
In fact, if you prefer to spend your days simply relaxing with a book and looking out at the ocean, you might actually prefer a smaller ship over a large one. Smaller ships often have more quiet space on the outdoor Promenade Deck, helicopter pad, and in the front of the pool deck to relax and unwind away from crowds and activities.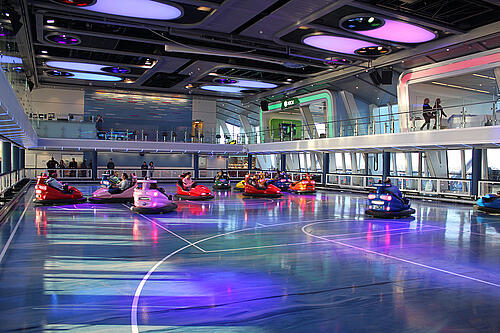 If you want to have a nearly endless amount of activities going on throughout the day, though, look for a Voyager (amplified), Freedom, Quantum, or Oasis Class ship. Whether pickleball competitions, karaoke bars, ziplining, or bungee jumping, there's sure to be a lot to choose from on a larger Royal Caribbean ship.
Will I be staying in a suite?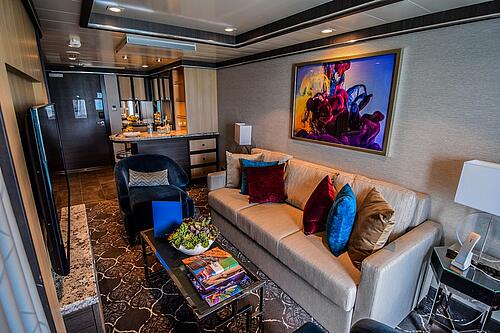 If you plan to book a suite for your next cruise, you may want to take a look at what the suite experience will be like on the ship you are considering.
Suite benefits on a Royal Caribbean cruise can vary from ship to ship, although they all feature the same basic benefits like priority boarding, concierge service, VIP pool deck seating, etc. Oasis and Quantum Class ships, however, offer the Royal Suite Class to those in Grand Suites and above, which is an elevated cruise experience for suite guests.
The highest tier of the Royal Suite Class is Star Class, where guests have access to the Royal Genie service and complimentary specialty dining, beverage packages, internet, gratuities, and more.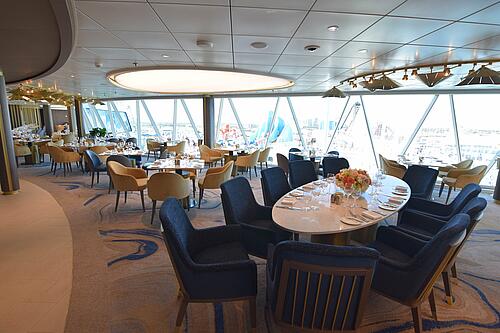 Suite guests on Oasis and Quantum Class ships also have access to Coastal Kitchen, a complimentary dining venue only for suite guests. Coastal Kitchen is available every day of the cruise for breakfast, lunch, and dinner.
In fact, Wonder of the Seas has an entire Suite Neighborhood dedicated exclusively to suite guests, so this can be a nice ship to book if you plan to stay in a suite. The Suite Neighborhood features Coastal Kitchen, the Suite Lounge, and a private sun deck complete with its own bar, plunge pool, and lounge areas.
How far away is the port from where I live?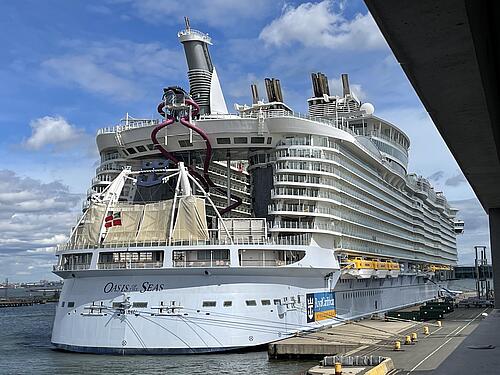 If you're picking a cruise ship, consider whether you want to drive or fly to port and if you're okay traveling to a port far away from where you live. While the hub of Royal Caribbean cruising is in Florida, ships sail from many ports around the world.
If you live in the northeast, you may want to consider booking a cruise on one of Royal Caribbean's ships that sail from New York (Cape Liberty). Ships of various sizes sail from Cape Liberty, from Radiance Class to Quantum and Oasis Class. It may be easier for those in the New York area to sail on Oasis of the Seas rather than fly to Florida to sail on Symphony of the Seas.
Likewise, if you are within a short driving distance to Baltimore and are looking for a no-frills getaway, you might want to consider a cruise on Enchantment of the Seas or Vision of the Seas. While not the newest and biggest ships Royal Caribbean offers, they can offer a fun getaway departing from close to home.
If you live in southern California or on the west coast, consider cruising on Navigator of the Seas to the Mexican Riviera as opposed to flying to Florida. You will have a similar experience onboard as on other Royal Caribbean ships without needing to fly across the country.
What will the weather be like on my cruise?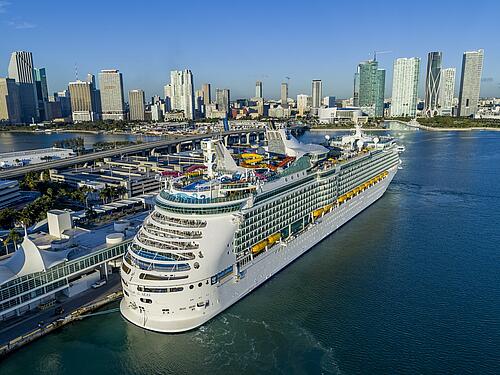 It's a good idea to know what the weather may be like on your particular cruise itinerary before picking a ship.
Some Royal Caribbean ships offer more indoor spaces than others, making certain ships ideal for sailing in colder weather. Quantum Class ships, for example, have an indoor SeaPlex instead of an outdoor Sports Court, allowing guests to enjoy sports activities no matter the weather.
Likewise, Vision, Radiance, and Quantum Class ships feature an indoor pool as opposed to only an outdoor pool. While the indoor pool on Vision and Radiance Class ships is for adults only, as it is located within the Solarium, Quantum Class ships have an indoor pool available for guests of all ages.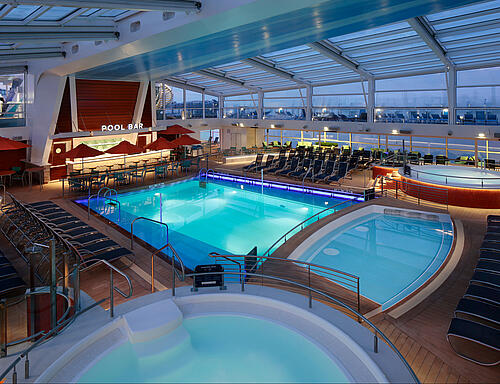 If you plan to sail from New York to the Caribbean, for example, it could be nice to sail on a Quantum Class ship (Anthem of the Seas) instead of Oasis of the Seas to take advantage of the indoor spaces when sailing through colder weather en route to the Caribbean.
What questions do you like to ask yourself before choosing a cruise ship? Let us know in the comments below.