We only recommend products we love and that we think you will, too. We may receive a portion of sales from products purchased from this article, which was written by our Commerce team.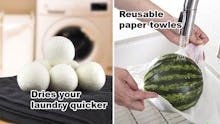 When I hear of an "investment piece," the first thing that usually comes to mind is something that's expensive now, and will be more expensive down the road. But there's another way to look at it, too — it can mean buying something that will save money down the road. Like, a set of solar lights that help you trim down your energy bills, or exercise gear that saves you on gym membership fees, or reusable coffee pods that you can use with your favorite grounds instead of stocking up on single-use varieties (this one also happens to be eco-friendlier, too).
Going with that last definition, this list is full of inexpensive investment pieces, or, cheap things for your home that will actually save you lots of money. It may feel counterintuitive to spend money when your ultimate goal is to save it, but there's logic to each item here (promise) and none will break the bank. Whether your style is to set a firm savings goal and a deadline for when you're trying to meet it, or you're more about a few low-key ways to save a bit here and there, you'll find options here, along with some money management tools to help you on the way. So, happy shopping, but even more importantly, happy saving, too.