Metaverse crypto gaming is the next big hype in crypto. While most Metaverse coins didn't experience much volatility today, CryptoPlanes outperformed everyone with a 23% gain. As the top Metaverse coin gainer on CoinMarketCap, let's take a closer look at CryptoPlanes and its token CPAN and see why the price is rising so much.
What Is CryptoPlanes (CPAN)?
As the name suggests, Crypto Planes is a blockchain-based game built on the Binance Smart Chain, and featuring a Metaverse with NFT planes. CryptoPlanes extends the CryptoCity Metaverse, where the famous racing game CryptoCars was founded.
According to the CryptoPlanes' whitepaper:
"As a player in CryptoPlanes, your mission is to win the fighting (Training, PvC, PvP, Planes vs Cars battle ) to get Exp and earn token. When you gain enough experience points, you can upgrade your plane level."
The game's core revolves around NFT planes that players can purchase with CPAN. It costs 500 CPAN (roughly $1000) to buy a plane or a blind box that rewards you with a random plane. Once you purchase the plane, you can stake it and complete missions to upgrade its level and earn rewards.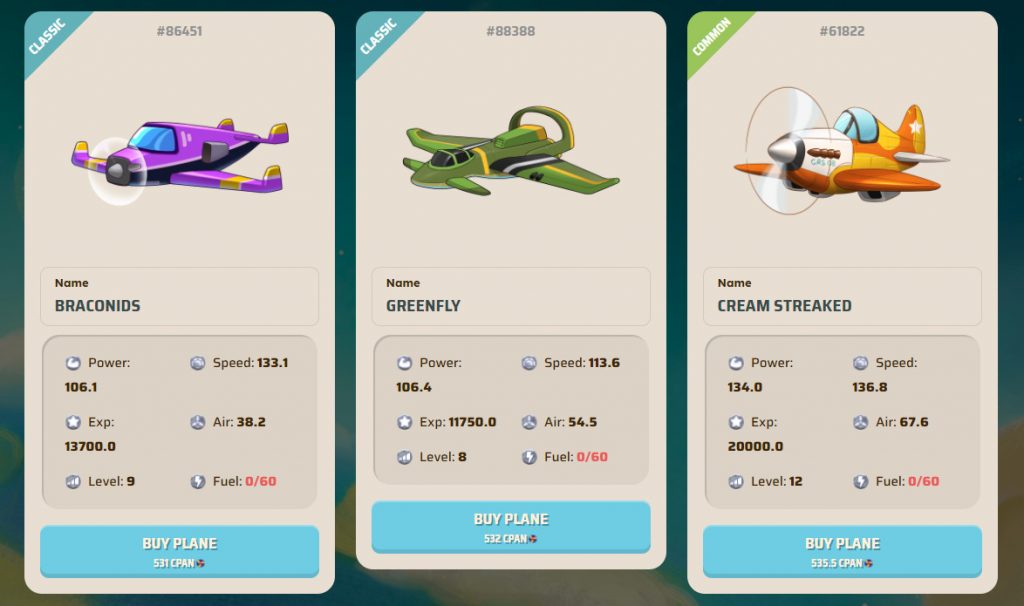 CryptoPlanes is a top-rated game, with over 212k players, 127k planes, and over 17 million in-game transactions.
Why Is CPAN Price Rising?
The main reason for CPAN's recent price hike is a continual increase in its userbase. Looking at CryptoPlane's historical user activity data over the past thirty days, we can see the overall positive trend: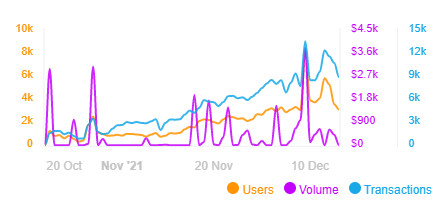 The users, volume, and number of transactions on the app have been increasing steadily since November, and this trend will most likely continue into 2022.
In addition, the official CryptoPlanes Twitter account retweeted a Tweet from CryptoCars, showing that CPAN is still on top of the most searched projects in the past 24 hours.
$CCAR and $CPAN still on top of 24H Most Searched Projects ? pic.twitter.com/zUeTE1WWGs

— CryptoCars (@cryptocarsgame) December 15, 2021
It's clear that CryptoPlanes' popularity is growing, which is a significant contributor to the recent bullish momentum for CPAN.
Keep in mind, though, that the recent price hike of 20% in the past 24 hours still doesn't offset the 20% decrease of CPAN's price in the past seven days.
Closing Thoughts
CPAN's price hit an all-time high on November 24th, when it peaked at $6.24. CPAN is trading at $2.33, less than half its ATH price at the time of writing.
CryptoPlanes' market cap is $36 million, with a 24-hour trading volume of $21 million. You can purchase CPAN on PancakeSwap, BKEX, DODO BSC, and ZT.
With a market cap of $36 million, CryptoPlanes is a highly undervalued project. As the team releases more features and the userbase grows, CPAN's price can easily double or triple.
The only downside to this game is the relatively high entry price of 500 CPAN ($1000) required to get a plane. However, the $1000 investment could pay off in the long term for those who can afford it.
Disclosure: This is not trading or investment advice. Always do your research before buying any cryptocurrency.
---
Also Read:
Top 10 Metaverse Coins With a Market Cap of Under $250 Million
Follow us on Twitter @thevrsoldier to stay up to date with the latest cryptocurrency news, and subscribe to our daily newsletter to never miss another story!