Gary Pinkel 'overwhelmed' by Hall of Fame election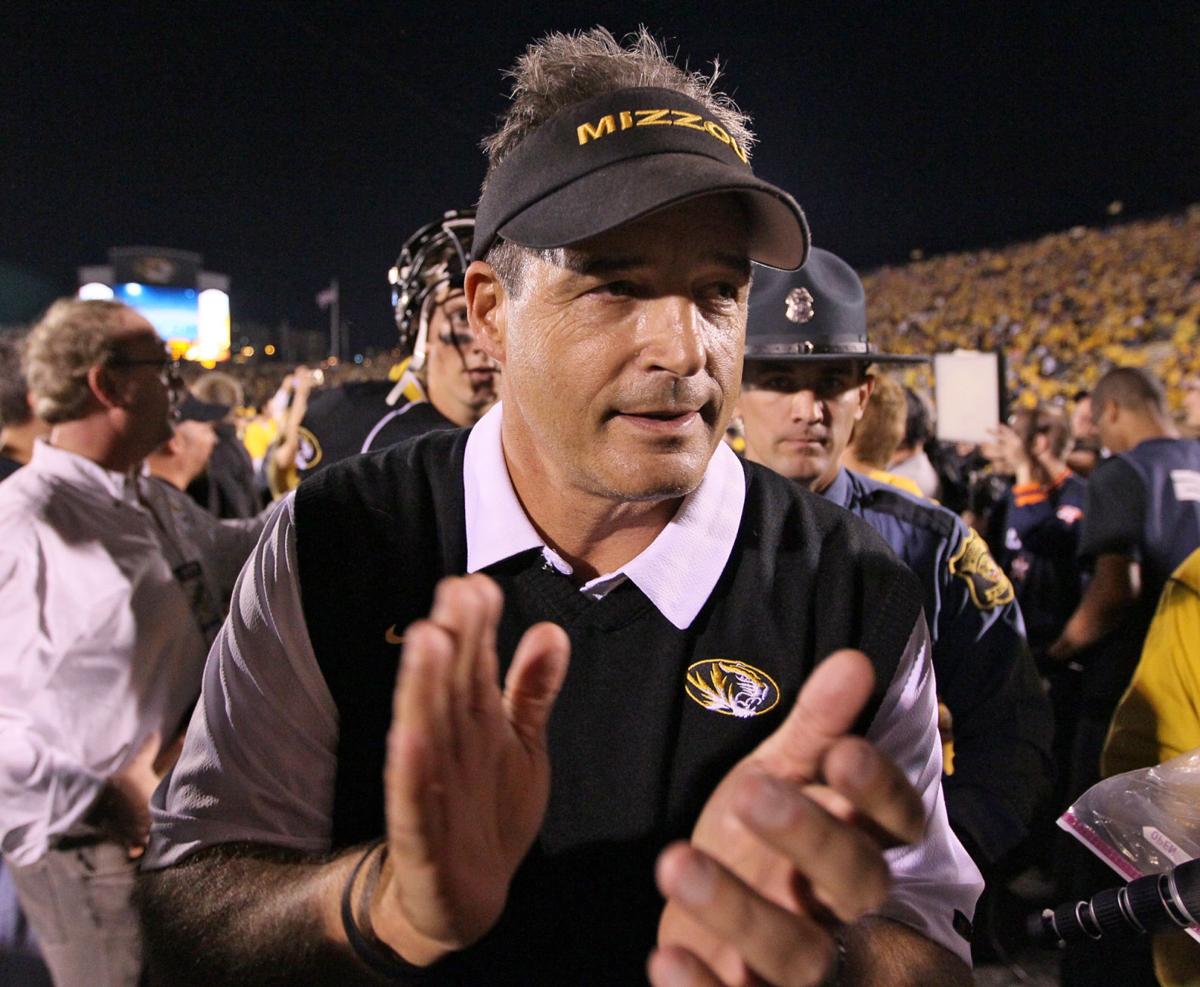 COLUMBIA, Mo. — Gary Pinkel spotted a package on his doorstep one night last week. But he forgot about it and let the box sit out overnight.
By the morning, he remembered to bring it inside.
"I slid it open … and there was a football in there with an envelope on top and a card on top," the former Missouri football coach recalled.
Pinkel figured it was something a fan or friend wanted autographed — until he read the card. It was from the College Football Hall of Fame.
"It said, 'Welcome, you're part of the team,'" he recalled. "And I just broke down. … I didn't think it would ever happen."
Pinkel wasn't convinced it was true. He ran to the bathroom where his wife Missy was taking a shower. He didn't wait for her to get out. He showed her the letter — in the shower!
"First she thought something was wrong," he said. "I said, 'Look at this! Look at this!'
"She looked at it and started screaming. … It was a moment I'll never, ever forget. Very, very emotional."
As the moment set in, Pinkel, 69, realized a coaching career that spanned six decades had earned the sport's highest honor. In his second year on the National Football Foundation ballot, he'd been elected to the College Football Hall of Fame Class of 2022. Pinkel along with two other coaches and 18 players will be inducted in December. Of course, Pinkel knew he was on the ballot, but had he achieved enough in 25 years as a head coach? He won more games than any prior coach at both Toledo and Missouri, guided the Tigers to 10 bowls and four conference championship games — in both the Big 12 and Southeastern Conference — and twice had Mizzou a victory away from playing for the national championship.
But he figured that wasn't enough.
"It wasn't because I didn't believe in me or myself,"  Pinkel said Tuesday at Shakespeare's Pizza on the south side of Columbia, where he visited with friends, family and media. "First of all, I don't spend a lot of time thinking about it. I don't wake up every day going, 'Oh gosh, I want to be in the Hall of Fame.' I just didn't really think I was going to get in. Then all of a sudden the box was there."
"That whole day," he added, "every 20 minutes I had tears coming down."
Pinkel is especially touched that he'll join the same Hall of Fame that in 1997 inducted his mentor, Don James, the man who coached him at Kent State and later hired him at University of Washington. James, the architect of the program Pinkel later built in Columbia, died in 2013, just as Pinkel was leading Mizzou to its first of two straight Southeastern Conference East Division titles.
Someday, too, Pinkel's Kent State teammate will join them in the Hall.
"A guy named Nick Saban," Pinkel said, laughing. "They might let him in."
Heading into the Hall's most recent round of voting, Pinkel's 191 head-coaching victories — 73 at Toledo from 1991-2000 and 118 at Mizzou from 2001-15 — are more than any FBS coach not already inducted into the Hall of Fame, except Alabama's Saban. The 70-year-old and seven-time national championship-winning coach won't be eligible until he turns 75 or is three years out of coaching.
As for Pinkel, in the last few days, friends, former players and colleagues bombarded his phone with congratulations. He plans to have long list of guests for the December induction.
"I was just overwhelmed," said Pinkel, who retired in 2015 after he was diagnosed with non-Hodgkin's lymphoma. "I just feel very blessed."
"He has changed and impacted thousands and thousands of lives over his career," former Missouri coach and current Arkansas defensive coordinator Barry Odom said in a phone interview. "I'm so grateful and understand that I wouldn't be where I am today without him. … His impact on me as a coach and as a leader will forever be shown through on my teams as long as I'm in coaching because he was that impactful for me."
Former Mizzou athletics director Mike Alden, who hired Pinkel after the 2000 season, said Pinkel's Hall of Fame candidacy "goes beyond the wins and losses," calling his close friend "the total package."
"He was able to sustain it for a long time," longtime defensive line coach Craig Kuligowski, now back on Toledo's staff, said in a phone interview. "He won championships at places where people didn't think you could get in that position. Mizzou really hasn't been in that position since he left. But he's a master of consistency and organization."
That's why Alden said he was "sweating bullets" the few times other schools approached Pinkel. Michigan tried to interview him after the 2010 season. Washington wanted him on two different occasions.
"To tell you that I was going to sleep each night sleeping like a baby, that was not the case," Alden said. "I was laying up awake at night thinking, oh man, we got to do whatever we can because Coach is pretty important to our program."
How important? His longtime linebackers coach and defensive coordinator Dave Steckel believes the honors shouldn't end with the Hall of Fame.
"He needs to have a statue out there in front of Mizzou, in front of that stadium," he said this week. "I'm not even blinking on that one."
Dave Matter brings you the latest updates from the Mizzou sports scene.