Las Vegas attorney Peter Bernhard and his wife Susie will celebrate their 50th wedding anniversary on Jan. 8. Earlier this month in St. Louis, Bernhard got to watch his seven-year-old grandson score his first goal in a youth hockey game.
The two joyous events have a deep significance to him because he almost didn't live to experience them.
Bernhard, 72, who holds the distinction of being the longest-serving chairman of the Nevada Gaming Commission, was waiting for court proceedings to begin in a civil trial on the 10thfloor of the Regional Justice Center on June 21 when he suffered a massive heart attack.
If it wasn't for the immediate actions of courthouse marshals, who were trained in the use of life-saving defibrillators, Bernhard might have died on the spot.
"It was my understanding that three or four marshals came from different courtrooms to help," Bernhard recalled during a telephone interview with The Nevada Independent on Dec. 16 from St. Louis. Bernhard and his wife own a small house there to be close to their daughter, Blythe, and her family, which includes her two sons, ages seven and five.
"People don't want to spend money for things like automatic defibrillators in public places," Bernhard said. "Well, there was one right there on the wall. They were able to use that and get me going."
Bernhard says he doesn't remember anything of the heart attack. He was in a coma for three days at Valley Hospital after the incident, and was transferred to the Cleveland Clinic Medical Center in Cleveland, Ohio, where he eventually underwent successful three-way bypass surgery.
Six months later, Bernhard is on the road to recovery. He spent much of it in St. Louis until he was strong enough to fly back to Las Vegas in the fall. He and Susie returned to St. Louis for Thanksgiving and have since returned to Las Vegas to complete his cardiac rehab and recovery.
"I'm actually feeling pretty good," Bernhard said. "I had my checkup today with the cardiologist [in St. Louis] and it was very positive. Six months out and it's still beating. It's even stronger than it was at the time it happened."
Bernard, whose son Bo Bernhard is UNLV's vice president of economic development and director of the International Gaming Institute, is looking forward to Blythe, a reporter for the St. Louis Post-Dispatch, and her family coming to Las Vegas soon to celebrate the milestone wedding anniversary. He and Susie will be surrounded by all four grandchildren, which includes Bo Bernhard's two daughters, ages nine and 12.
He plans to return to the courtroom in late January to finish the civil trial where the verdict will be decided by District Judge Gloria Sturman. Two of his associates at the Kaempfer Crowell law firm, where he is of counsel, will handle the case.
Bernhard spent 13 years as commission chairman and was lauded upon his retirement for his steady approach and demeanor in the role. During his tenure between 2001 and 2014, the commission oversaw monumental events and changes within Nevada gaming, including the halt in tourism following the 9/11 terrorist attacks and the 2007 economic meltdown.
Bernhard's commission also approved several multibillion-dollar corporate mergers, the launch of internet poker and the arrival of private equity investment.
During the interview, Bernhard talked about his recovery and his views on the Nevada gaming industry.
This interview has been edited for clarity and length.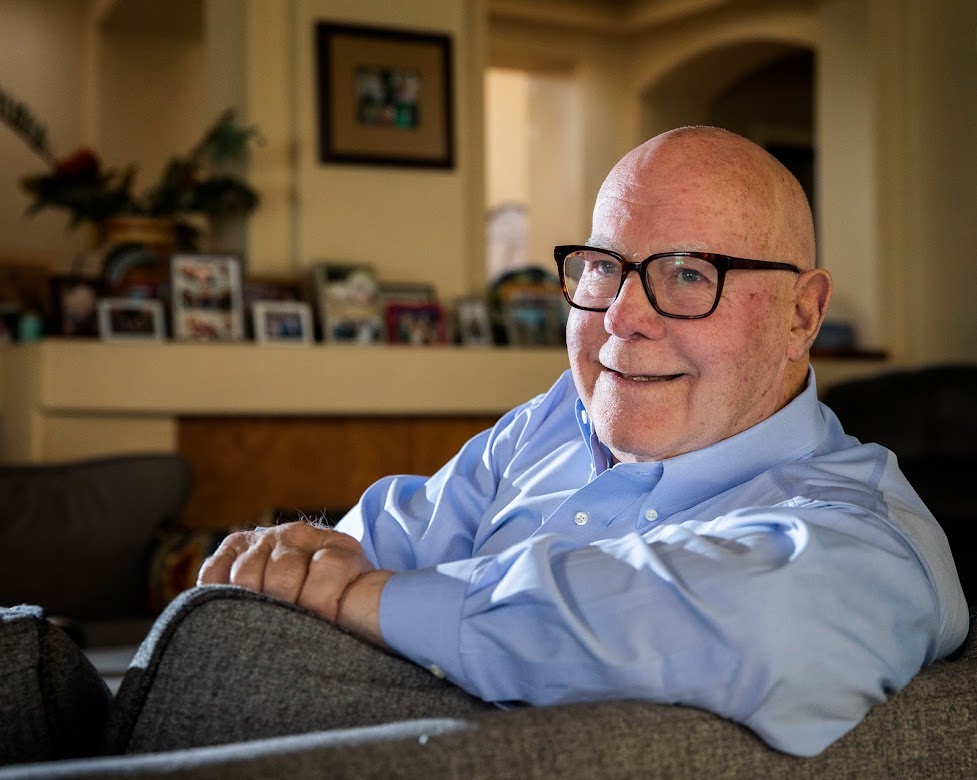 What do you recall about the incident?
I don't remember anything that happened to me until they were putting me on a plane to Cleveland. I don't even remember driving to the courthouse that day. As I was being stretchered out and going to the airport, I heard from Susie and from Bo what all they were doing to me and all the tests they were doing and everything else. I was out of it and under sedation. I was not really aware or focused on what was happening.
Have you been able to thank the courthouse marshals?
I sent a thank-you note to [Chief District Court Judge Linda Bell] and asked her to pass it along to all of them. I expressed my appreciation, and I hope to do it in person at some point. Every one of the doctors and staff commented on how quick action was a big factor in saving my life. 
But also it kept the damage to the heart and other body systems minimal. [The marshals] did the right thing to get me to the right place where they could take care of the underlying problem. Not that everybody wants to do this in the courthouse corridor, but because people were trained and equipped to help out, I was lucky in that respect.
You obviously watch the gaming industry closely. Jennifer Togliatti was recently appointed as Gaming Commission chairwoman. Do you have any advice for her?
I talked with her by phone when she got the appointment, and I think she's going to be great. She's got the strength, the character and the integrity to be a great chair. She may make some changes that may make some people uncomfortable, but I think that's a good thing. It needs to be done.
The advice I gave her was to fall back to the basics of public policy. [The commission] must protect the state and the patrons and make sure gaming is conducted honestly and fairly, without undue influence from third parties and criminal or corrupted elements. If you use that concept as a guide, then you're going to be able to make the right decisions.
All three Gaming Control Board members and all five Gaming Commission members are new to the positions in the last two years. Does that concern you as a former chairman?
It's not just the changes at the board and commission, but it's a change in the chiefs of various divisions. You're losing a lot of institutional knowledge. New people will step into those roles, but it takes time and it's difficult without institutional knowledge.
In law, there are often 30 different decisions before the effect of a court ruling becomes precedent. As commissioners and board members, we are often asked to rule upon things that have a long history behind them. If you don't have staff and chiefs of divisions that are knowledgeable about all of those processes, then you lose that institutional knowledge, and each case becomes an ad hoc decision without guidance from what's been done in the past.
Your first big challenge as chairman was 9/11. What was your initial response?
My first meeting as commission chairman was in October 2001, right after Sept. 11. [Former gaming commissioner] Art Marshall suggested, and I agreed, we should set up a meeting with the leading executives at Nevada properties and talk about what the industry needed from regulators. The message that I got was 'We just need predictability and stability.' 
The operators needed some kind of certainty and the outcomes that they could make their plans. Everything was in turmoil for months and months. Art and I tried to reassure the executives that's exactly what our regulatory philosophy was and that we don't want to put impediments on creativity to manage the business.
What do you say to people who believe gaming is over-regulated?
Regulation in gaming is vital because it protects the industry. I think that the people who say we're over-regulated are risking having a tremendous backlash. Think back to the old days when the gaming industry pretty much ran roughshod over the regulators. Our lives have improved because of regulation, whether it's on a national scale, or state and local scale.
Las Vegas will soon have three tribal gaming operators – Connecticut's Mohegan Tribe, Southern California's San Manuel Band of Mission Indians and Florida's Seminole Tribe – operating casinos on or near the Strip. Does that surprise you?
I see that as a real positive. The progress of Indian gaming – and again we're talking about regulation through Indian Gaming Regulatory Act – enabled tribes to put together a structure that was at least as good if not better than their former structure. Back in the early 2000s, we were very worried because cheating at gaming or infiltration by undesirable elements was much more likely in the early stages of tribal gaming. They have responded and now have a very rigorous regulatory process. The tribes have come to Nevada and agreed to go through the same scrutiny in the same licensing process as any other private sector operator. They're able to show that they will meet all the standards Nevada has had in place for decades.
Sports betting is legal in 31 states and Washington, D.C. When you were chairman, Nevada was the only state with full-scale sports betting. What is your impression of the expansion?
I think everybody knew that Nevada's special status was not going to last forever. I would have predicted that if there was going to be a breach in casino regulatory integrity, it would be in the expansion of sportsbooks. We haven't had any type of taint, and I'm pleased with that. 
I know Nevada's numbers have also been higher. That's a credit to the idea that Nevada is going to be the attraction where if you want to bet on sports, you have to come here and do it in a sportsbook for the big event or the big tournament. You tell everybody back home that you went to Vegas, sat in the sportsbook and had a great time. It's a little different caliber of experience from what you get by going either online or at a licensed sportsbook operator in other places that have legalized it.
How is your recovery going?
Honestly, the restrictions are more COVID-related than heart-related at this point. For example, I can't go to Golden Knights games because I don't have any confidence that everybody there is vaccinated. I have to wear a mask in any group gathering, so I haven't been back in my office. I've been working remotely on matters. The doctor said I could fly because the air is recycled so frequently. Everybody has to wear a mask and you're wearing a mask the whole trip. Actually, it's safer there than at a hockey game or concert or the office.
Have the past six months changed you in any way?
People talk about an experience like this being life-changing. You obviously appreciate things a lot more than you used to. We all know that we need to exercise more. The cardiologist today told me that that is the most difficult thing. What helps the most is to eat better, exercise more and keep your weight under control. That will go a long way toward alleviating the possibility of another one.
I had a very grateful Thanksgiving, but this experience also made me recognize just how fragile everything is. I don't know that I've changed except for the appreciation of everyday activities and remembering the things that are important to you along with family and friends.