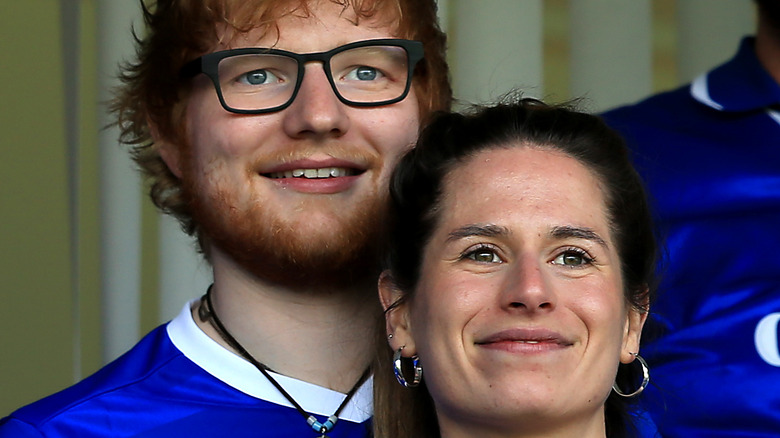 Stephen Pond/Getty Images
Not all celebrities enjoy putting their personal lives on full display, and this statement would undoubtedly appear to ring true for Ed Sheeran. Though the "Shape of You" crooner does publicly reveal parts of his life in interviews and on social media, Sheeran also manages to keep his relationship with his wife, Cherry Seaborn, relatively private. Still, there have been many significant milestones that the couple ultimately chose to share with the world, much to the delight of the British singer's many fans.
The full timeline of Sheeran and Seaborn's relationship has all the makings of a classic love story that dates all the way back to their schooldays. Since reconnecting, the artist and his significant other have experienced plenty of important milestones, such as their ultra-sweet engagement, their private wedding, and of course, the birth of their first child. It's no wonder that even though Sheeran wants to keep a low profile, he can't stop gushing about his new life as a father and husband. Of course, the singer's heartfelt reflections have only made the adorable pair's fans crave even more details about Sheeran and Seaborn's epic romance.
Ed Sheeran and Cherry Seaborn attended school together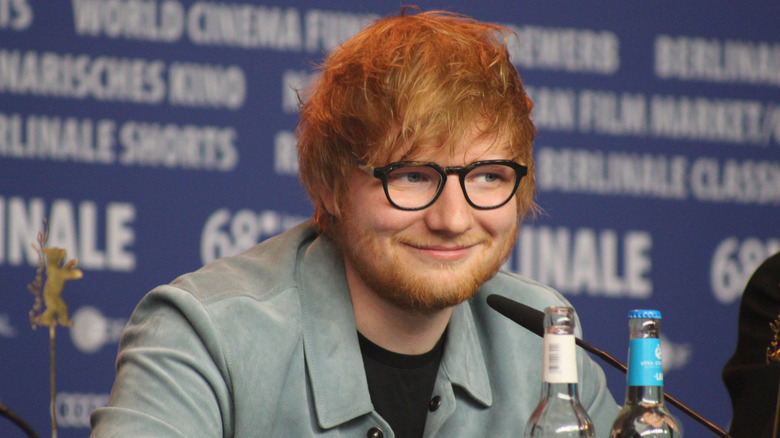 T.O.Pictures/Shutterstock
According to Oprah Daily, Ed Sheeran and Cherry Seaborn's love story originally started way back when the two were students at Thomas Mills High School in Framlingham, Suffolk, England. However, the pair eventually parted ways, with Sheeran dropping out to pursue a musical career and Seaborn leaving the U.K. after graduating from Durham University to attend Duke University in North Carolina. Their delightful appearance in the music video for "Put It All on Me" would later confirm that the two had crushes on each other during their youth.
Surprisingly, Sheeran recently told Dax Shepard in a podcast interview that the now-married couple never actually dated during their school days. But, according to Sheeran, he's glad that he experienced other relationships before getting into one with Seaborn, stating that it taught him valuable information about dating. The English artist went on to say that going out with Seaborn in high school "would have been a disaster" and that at the time, the "Thinking Out Loud" singer already had a girlfriend. Still, Sheeran told Shepard that he and Seaborn were "really close friends" and that it was ultimately separate life paths that made them lose touch with one another.
Ed Sheeran and Cherry Seaborn had their first date on July 4th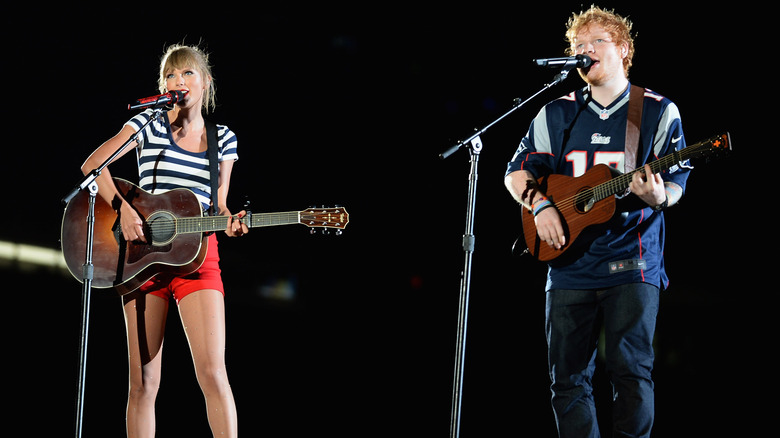 Theo Wargo/tas/Getty Images
After their lives went in opposite directions, Ed Sheeran and Cherry Seaborn eventually reconnected and later had their first official date at Taylor Swift's infamous July 4th party. According to his previously mentioned discussion with Dax Shepard, Sheeran initially got back in touch with Seaborn through a mutual friend when both he and Seaborn were in New York. A separate interview with People got plenty of satisfying details on Sheeran's Independence Day meet-up with his future wife.
Sheeran told the magazine that his and Seaborn's anniversary is Swift's holiday party. The English musical artist said, "I went to Taylor's 4th of July party. I was texting [Seaborn], and she was like, 'I'm in Rhode Island at a 4th of July party,' and I was like, 'So am I.' I kinda said to Taylor, 'Can I invite one of my old schoolmates?' The rest is history." Swift apparently gave Sheeran her stamp of approval, and according to Sheeran, Seaborn and Swift have become friends themselves. "I don't know what they get up to, talking about cats or whatever." Additionally, in 2018, Sheeran posted a sweet commemoration of his and Seaborn's special day on Instagram, with a photo of the couple captioned, "4 July 4's."
Ed Sheeran reportedly took a break from music to strengthen their relationship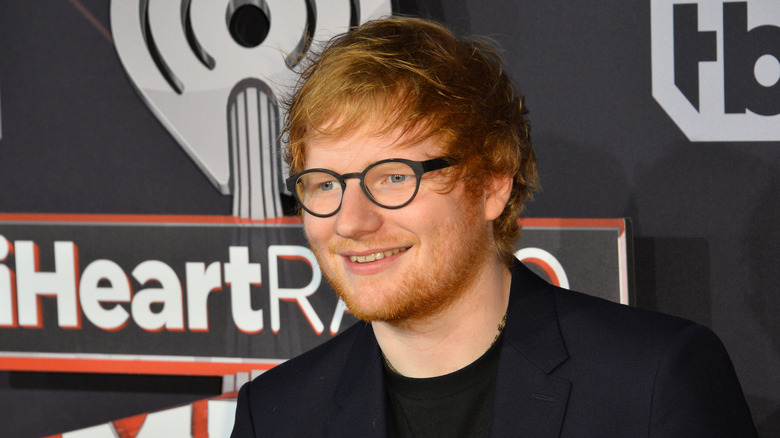 Jaguar PS/Shutterstock
In 2015, Ed Sheeran made an important announcement on Instagram. He said, "I've had such an amazing ride over the last five years but I find myself seeing the world through a screen and not my eyes so I'm taking the opportunity of me not having to be anywhere or do anything to travel the world and see everything I missed." The songwriter went on to say that his loved ones would understand his need for personal time. Sheeran also reassured his fans that new music was still on the way, and that it would be his "best" work yet.
However, according to a 2020 Elle article, there was more to the artist's decision than simply needing a break. A year after Sheeran's original announcement, he stated in a since-deleted Beats1 interview that both he and Seaborn chose to quit their jobs to have "a year of forming a tight bond." He added that the pair traveled and spent all their time together, saying the experience allowed him to "fall in love properly." If the results of their romantic adventure are any indication, it would seem that the couple's judgment definitely worked in their favor, and ultimately made the two closer than they were before.
Cherry Seaborn is Ed Sheeran's musical muse
There has been plenty of unconfirmed speculation that some of Ed Sheeran's songs are about his partner, Cherry Seaborn. Much to the delight of fans, the "Galway Girl" singer confirmed in a 2017 interview with Us Weekly that she was indeed his musical muse for a certain special song. According to Sheeran, his ballad "Perfect" was inspired by Seaborn. "The line that goes, 'Barefoot on the grass, listening to our favorite song' was about when we were in Ibiza listening to Future's March Madness literally not wearing any shoes and going mental on the lawn," says the singer. Though Sheeran went on to say that he was unable to see Seaborn's initial reaction to his work, the response he received from her was pretty positive.
More recently, in an interview with "Entertainment Tonight Canada," Sheeran spoke about how his wife's input has affected his latest album, "=." According to the discussion, Seaborn is the one who chose the track "Bad Habits" as the album's first single. While reflecting on his significant other's contributions, Sheeran states that when listening to his music, Seaborn has a very "business-minded head," which the "Happier" artist says is something that he definitely appreciates. Sheeran added that his partner "hasn't been wrong so far" in her critiques, before going on to say that he removed a song from his album at her suggestion and realized that it made the album "actually make sense" in terms of its theme.
Cherry Seaborn thought Ed Sheeran was 'joking' when he proposed
Despite being notoriously private when it comes to his relationship, fans of Ed Sheeran got a heartwarming surprise when the singer-songwriter made a special announcement on social media. Early in 2018, Sheeran delivered the good news on Instagram. Posting a photo of himself and Cherry Seaborn wrapped in a loving embrace, Sheeran wrote, "Got myself a fiancé just before new year. We are very happy and in love." But, of course, being discreet meant followers of the artist wouldn't get more details about the proposal until Sheeran wanted to share.
Recently, Sheeran appeared on the talk show Skavlan and finally spoke about his engagement and how his original plans didn't quite pan out the way he'd hoped. The artist stated that he'd initially wanted to pop the question outside at sunset, but unfortunately, a heavy rainstorm made Seaborn less than eager to head out to their garden. The "Shivers" singer added that he'd also had the date he'd arranged to propose engraved on the ring, making things even more complicated. Because of that, Sheeran continued to press Seaborn to go outside, and she eventually agreed. From there, things became even more awkward for Sheeran after he asked Seaborn to marry him. "I was like, 'Will you marry me?' And she was like, 'Are you f***ing joking?'" he recalled. While Seaborn did say yes, Sheeran states that the "long silence" was "the most human that I've ever felt."
Ed Sheeran and Cherry Seaborn married in 2019
After months of speculation from fans, Ed Sheeran finally confirmed his marriage to Cherry Seaborn in a video interview. Sheeran spoke to Charlamagne Tha God about referencing Seaborn as his wife on "Remember the Name" with the line, "Watch how the lyrics in the songs might get twisted / My wife wears red, but looks better without the lipstick." Sheeran said, "It was actually before me and Cherry got married and I knew that we'd be married by the point that the song came out." The artist had already previously hinted that he was married in an "Access Hollywood" interview by this time.
More recently, Sheeran revealed new details about his wedding during his appearance on the "Table Manners with Jessie Ware" podcast. During the chat, the singer stated, "Our actual wedding was a tiny, tiny event with basically no one there." He went on to say that the big day happened at night in mid-January. "No one knew, no one came to it. We lit candles, we got married, we went back [and] had a curry." Still, despite having low-key nuptials, Sheeran added that months later, there was a "less private" event with their friends to celebrate the couple's special day. Sheeran says that he is still "amazed" that pictures of the party weren't publicly released.
Ed Sheeran and Cherry Seaborn were in a music video
Ed Sheeran gave his fans a special treat with the music video for his collaboration with Ella Mai, "Put It All on Me." The visuals for the catchy pop tune featured both the musical creative and his wife. In the video, the pair recalled their love story alongside numerous other real-life couples. Captions for their segment read, "Back in high school, Ed & Cherry were crushing hard. They made out at the castle on the hill. A few years ago they reconnected, there were fireworks. They married in January 2019." During Sheeran and Seaborn's part, they are shown casually dancing in a cozy kitchen setting with plenty of sweet moments, and a couple of kisses shared between the two.
According to E! News, the Jason Koenig-directed piece is extra special, as it's also the first time Seaborn has starred alongside Sheeran in one of his music videos. Billboard states that a since-deleted Instagram post by Koenig gave behind-the-scenes details about the project, saying that the shoot used "real couples dancing all over the world." He additionally said, "Love is real. Dancing is the best." Based on Sheeran and Seaborn's cheery faces and ultra-adorable moves, the couple would definitely agree with Koenig's statement.
The couple welcomed their daughter in 2020
At the beginning of September 2020, the typically private Ed Sheeran took to Instagram to make an exciting personal announcement. He stated that the previous week, his wife Cherry Seaborn gave birth to the couple's first child, a "beautiful and healthy" baby girl named Lyra Antarctica Seaborn Sheeran. The "Photograph" singer went on to gush that both he and his wife were "completely in love" with the newest addition to their household. Sheeran added that both Seaborn and the baby girl were doing well, and that the family desired privacy for the time being.
After settling into being a father, Sheeran eventually opened up about his baby girl during an appearance on the British morning show, "Lorraine." On the show, the artist revealed the meaning behind his daughter's moniker, saying, "I realize some people think it's quite a strange name." Sheeran went on to explain that the couple had wanted to give their child a name that was "unique." He added that the youngster's middle name, Antarctica, came from a memorable trip he and Seaborn took shortly before she became pregnant. Sheeran says that the continent was a place that he'd always wanted to visit, saying the couple's trip there was "just incredible" (via People).
Ed Sheeran is thrilled to be a dad and husband
Ed Sheeran is happy to say that his life has completely changed since becoming a father. In a SiriusXM Hits 1 interview, Sheeran stated that his new role as a father is truly amazing, even with the hectic days. Continuing to discuss his experiences, the singer-songwriter explained how his wife Cherry Seaborn is also a crucial part of his new positive lifestyle. He said, "I used to do everything to excess," but after finding out his wife was pregnant, he decided he was going "to stop excess and just be available." He went on to say that he became "the husband I'm meant to be." According to Sheeran, this means "clean, healthy living" from here on out.
In a separate chat with Zane Lowe for Apple Music, Sheeran explained how his relationships have been completely altered since becoming a dad, as has his life in general. Sheeran explained that he and his wife now have a more laid-back home life, saying that Seaborn taught Sheeran to get into a "routine" and even showed him how to make home-cooked meals. In addition, the "End Game" artist says that Seaborn got them into the habit of having Sunday dinners and date nights on Fridays, something Sheeran calls "wholesome, good."
Ed Sheeran gushes about his wife in interviews
Ed Sheeran loves talking about his wife, Cherry Seaborn. In a recent appearance on the Dutch "Man Man Man" podcast, Sheeran praised his wife. "She works a very high-level job where she's the top of her field," he said (according to LinkedIn, Seaborn works with the World Climate group for Deloitte North and South Europe). Sheeran added that Seaborn's personality is "super pro-women and femininity." He additionally spoke about their relationship and romance. The artist said that he believes love is "about listening and understanding." Sheeran also stated that he feels "very secure" about his marriage but admitted that he and his wife have their own insecurities, but both are working on their "bad habits." 
In a separate interview with "Entertainment Tonight Canada," Sheeran talked about his and Seaborn's romantic life, saying that he and his partner always make time for a memorable evening. The singer says the best advice he ever received was from a friend who told the couple, "make sure you go out once a week on a date night and never talk about your kid." Sheeran says this time away from their lives as parents allowed Sheeran and Seaborn to "essentially fancy each other again," which he states is incredibly important because it lets them feel the spark of young love again. It sounds like Sheeran and Seaborn's relationship only continues to improve with age.