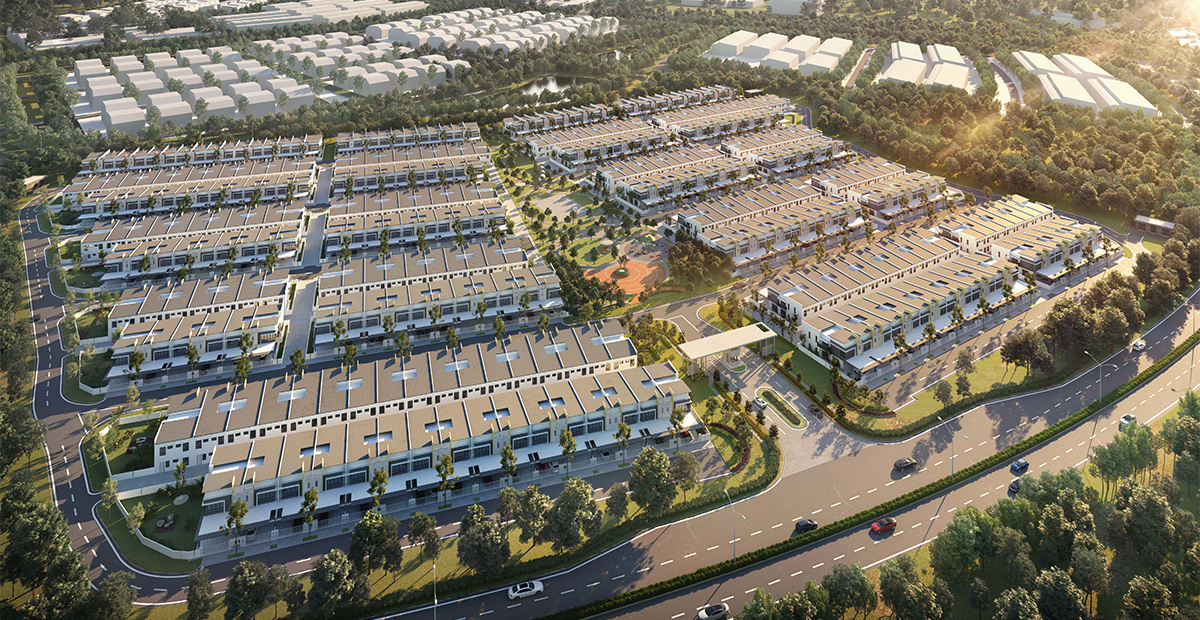 Lifestyle landed residential project Clover is set to become a new landmark with its strategic location — a stone's throw away from d'Tempat Country Club and Matrix Global Schools
The award-winning Bandar Sri Sendayan by Matrix Concepts in Seremban has helped drive the growth of the southern part of the Greater Klang Valley for the past decade, making the developer a household name. 
The township of more than 6,000 acres was conceived to meet the growing demand for homes in the Klang Valley. It was designed with sustainability and the well-being of the residents in mind — more than 20% of the entire development is dedicated to green, neighbourhood gardens and there is also a 26-acre Sendayan Green Park. A number of lifestyle and entertainment options are also available. 
The township is conveniently accessible via the North-South Expressway (NSE), Seremban-Port Dickson Highway and KLIA Linkage. The Seremban toll exit from the NSE is a mere five-minute drive to the township. 
Nestled in the heart of Bandar Sri Sendayan is the lifestyle landed residential project, Clover, which sits on a 30-acre freehold parcel. It is set to become the township's new landmark with its strategic location next to the Lifestyle Hub — Sendayan Merchant Square. 
The development comprises 366 two-storey link homes and Phase 1 — known as Clover I (183 units) — is fully sold out. Clover II (183 units) — with a gross development value of RM264 million — is opening for sale. Set among lush greenery and featuring modern façades and architecture, the project will have two types of homes, with built-ups of 2,586 to 3,120 sq ft. The land area is 22ft x 70ft and 22 ft x 80ft.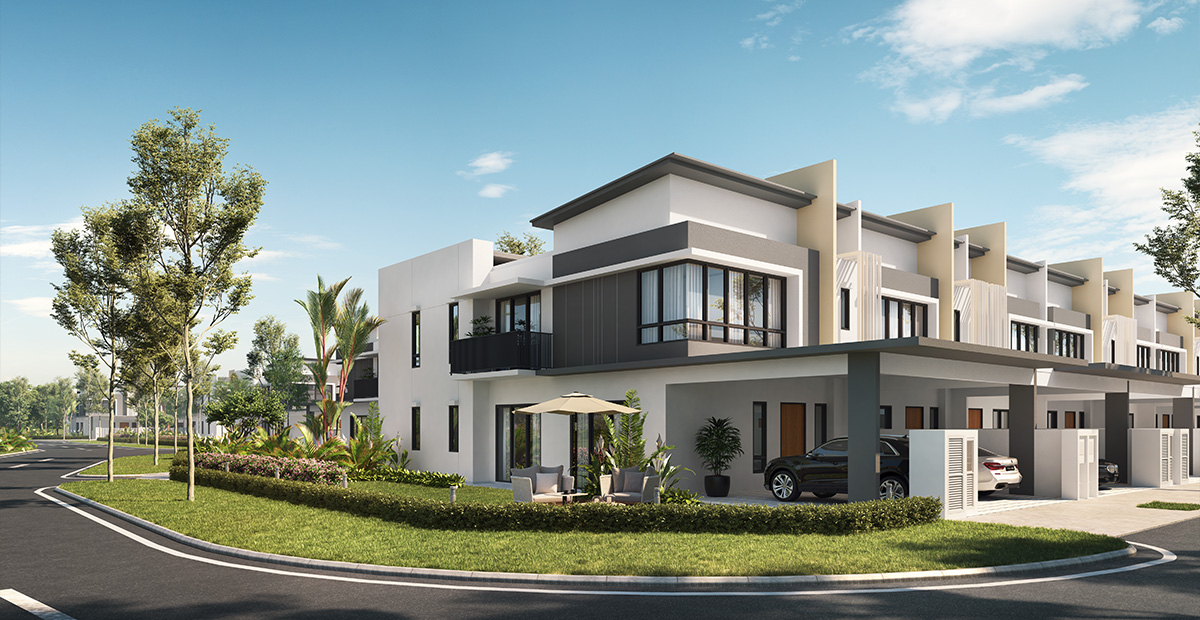 Clover comes with a built-up of 2,586 to 3,120 sq ft. It is set among lush greenery and features modern façades and architecture.
The homes will have an open-plan concept that will connect the living and dining areas, offering plenty of space for work, play and entertainment on the ground floor. Moreover, each home comes with four bedrooms with en suite bathrooms, providing the luxury of privacy and comfort. 
Residents can be assured of safety and security, as all homes will come with an alarm system with magnetic and vibration sensors. 
Within the low-density development, the amenities offered — such as a barbecue pit, children's playground, basketball court, outdoor gym and gazebo shelters — promote healthy living and encourage relationship building.
Healthy living and convenience within easy reach
The township's iconic 485,000 sq ft d'Tempat Country Club offers resort-style facilities. Residents will have complete access to an Olympic-sized swimming pool with aqua gym, children's wading pool with play station and water slides, 10-lane bowling alley as well as badminton, tennis and squash courts.
Sitting on a 6.33-acre parcel, the club, which is the largest family-oriented country club in Seremban, also has spaces for conventions, exhibitions and functions. It is equipped with spacious ballrooms and multipurpose halls, making it an ideal place for weddings, events and special celebrations. 
For a lovely outing with friends and family, Sendayan X-Park — a one-of-a-kind sports centre — is the place to go. The 34-acre centre is the largest entertainment venue in Seremban and offers recreational activities such as a driving range, petting zoo, go-kart, BMX track and paintball.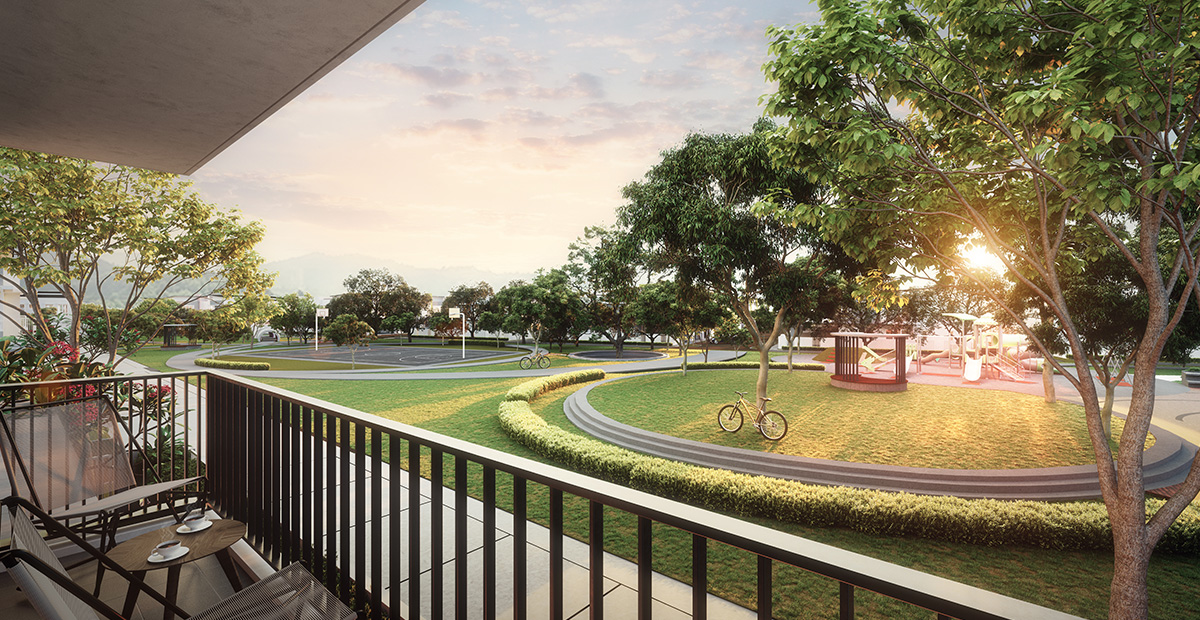 Growing families need not worry about educational facilities. Bandar Sri Sendayan has several, including SMK Bandar Baru Sri Sendayan, SJK(C) Bandar Sri Sendayan, SJK(T) Bandar Sri Sendayan and its most notable one — Matrix Global Schools. 
The 20-acre Matrix Global Schools is an inclusive educational institution that provides facilities from pre-school to private primary and secondary school, with the local KSSR as well as Cambridge syllabus.
Health is wealth and a few notable hospitals such as Columbia Asia Hospital, KPJ Seremban Specialist Hospital and Hospital Tuanku Ja'afar Seremban are within a 20km radius. 
To round off, the basic needs of residents are met with an array of retail stores such as Aeon Mall Seremban 2, Mydin Hypermarket Seremban 2 and Tesco Extra Seremban 2, which are just a short drive away. Within the township itself, well-known names that have a presence include d'Sora Business Hotel, KFC Restaurant, Affin Bank, 99 Speedmart and Petron.
Growing in leaps and bounds
Incorporated in 1996, Matrix Concepts focuses on four main businesses — property development, construction, education and hospitality. The developer was listed on Bursa Malaysia in 2013. 
Its first property development — a mixed residential and commercial development comprising 581 terraced houses and 14 shops/offices — was in Taman Bahau, Negeri Sembilan. Since then, the developer has grown in leaps and bounds with a number of notable and sizeable developments in Johor and Kuala Lumpur. It has kept its presence in Negeri Sembilan. 
In 2016, the developer launched its first overseas project, M Carnegie Boutique Apartment, in Melbourne, Australia. Today, it has expanded to Jakarta, Indonesia, as well.
Matrix Concepts is recognised by the industry as it has won multiple awards from prestigious organisations such as The Edge, Star Property and Property Insight.
Its township such as Bandar Sri Sendayan continue to live up to its tagline of "nurturing environments, enriching lives" by providing premier and quality education for future generations and to create integrated, sustainable communities.