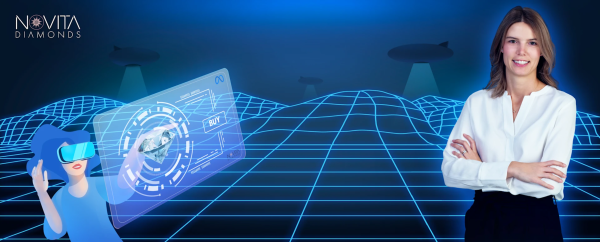 With Meta, formerly Facebook, officially announcing work on the Metaverse, companies worldwide are preparing to establish themselves in the Metaverse to connect with people and drive growth.
One company leading the pack in adopting the Metaverse is NOVITA Diamonds. Iris Arnold, founder, and director of NOVITA Diamonds, is no stranger to embracing new technologies and radical ideas to disrupt conventional industries. Her commitment to avoid mined diamonds altogether and instead focus exclusively on lab-grown diamonds was considered controversial. However, by only selling man-made diamonds, NOVITA Diamonds provided educated and conscious consumers, the majority of them young first-time buyers, with affordable diamonds without the negative environmental impact associated with mined diamonds.
Starting as a small startup with clear ambitions, NOVITA Diamonds has grown to the largest online diamond retailer in its home country, Australia, within a few years of operations. After weathering the extended economic effect of the pandemic relatively intact, it is now in the firm midst of aggressively expanding overseas, opening a branch in every major financial capital of the world. 
The diamond industry, dominated by a few very old companies, was prime for disruption, and Iris was more than eager, as she states, "The established diamond companies have become complacent and, in some instances, predatory towards consumers. I wanted to provide discerning customers with an ethical and affordable option with a focus on a painless and enjoyable buying experience". Transforming the traditional experience of buying a diamond, or a diamond ring, in a physical showroom to a completely hassle-free online process required innovation through consistent research and development. Breaking free of the dependency on physical showrooms was achieved by creating the world's first virtual showroom where every step of the buying process through video guides and prompts.  
With the large group of talented developers at NOVITA Diamonds, Iris is already working hard to lay the groundwork to enter Metaverse and disrupt the diamond industry, including the online diamond retailing she herself pioneered, even further. She wants to offer prospective customers the full real-life visual experience of viewing and shopping diamonds in a virtual 3D diamond showroom built exclusively for the Metaverse. With Meta's strong commitment to providing the necessary tools and support to business, Iris' goal of eliminating the hassle of visiting a diamond showroom is one step closer to reality.
Media Contact
Company Name: Novita Diamonds
Contact Person: Enrique Wilches
Email: Send Email
State: Sydney
Country: Australia
Website: NovitaDiamonds.com