Friday, Dec. 24, 2021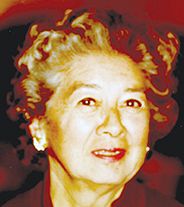 Courtesy photo/Diocese of Salt Lake City Archives
Mary Bell is shown in this 1986 photograph.
 Gary Topping
Special to the Intermountain Catholic
When a young man announces his intention to enter the priesthood, we are filled with admiration for his willingness to give up certain things: sexual intimacy, a family and perhaps even wealth and fame. If he is an only child, we admire his parents for their willingness to forego grandchildren. We often forget, though, that there can be other collateral consequences. Take the case of Bill McDougall.
On the eve of World War II, William H. McDougall, Jr. was an ambitious young reporter who had developed a big reputation for his work on the Salt Lake Telegram, an evening newspaper that had been created to compete with the Deseret News. Always wanting to be in on the action, he noticed Japan's increasing militarization and aggression and realized that the Far East was going to be an important theater in the impending conflict, so he quit his job and sailed to Japan, where he found work on the Japan Times, an English-language newspaper in Tokyo. His skills eventually came to the attention of United Press International (UPI), which hired him for their Shanghai bureau.
A Love Story Begins
One of the stories McDougall covered was the launching of a new handmade sailboat, the Cynjo, by a wealthy young American businessman in Shanghai named Edward Bell. 
Probably still in his 20s at the time, Bell proposed to sail the boat to Hawaii. It was a newsworthy event, but what caught McDougall's eye more than the beautiful boat was the captain's beautiful sister. He asked her for a date. She refused. He asked again. She refused again.  He kept asking until it became apparent that he was not going to let up, so she accepted in order to stop his pestering. A sailboat was launched, and so was a love affair. During dinner, drinks and dancing, she perceived that "he wasn't much to look at," but she was transfixed by his conversation. And he was a good dancer. Eventually the two became, at least informally, engaged.
Her name was Mary Bell. She was eldest child of 11, and the only girl in the family, which had lived in Shanghai for two generations and had amassed a very substantial fortune running a lumber business. When her father died young, she forfeited an opportunity to go to college in order to take over the business, which she carried on very successfully. And she was a famous beauty: once, on an around-the-world trip, she visited a Hollywood movie set and was offered a part in the picture. She loved dressing like a movie star and posing for glamorous photographs.
War
When the Japanese invaded China, McDougall, the Bells and the many other foreign nationals in the great commercial city of Shanghai continued their lives with little disruption. But after the attack on Pearl Harbor and the American declaration of war, the Americans in Shanghai were in dire jeopardy of capture and imprisonment, which is what happened to the Bells. They were arrested in their home, allowed only two suitcases for their possessions, and interned in a prison camp at Chapei for seven months. Their captors promised to treat them well because they were civilians. That promise was, in general, kept, except that food was very scarce.
In 1943 the Bells left China on a Swedish ship, the Grimsholm, and sailed to San Francisco. They had lost their wealth, their homes, and their business, but they had their lives and they had each other.
McDougall fared much worse. Returning to America would mean that he would miss what he knew were going to be great opportunities for reporting the war. After bidding Mary farewell on Christmas night 1941, he escaped into the unoccupied part of China, then to India. Mary Bell, who spoke a number of Chinese dialects, had been able to put him in touch with people who could facilitate his escape.
From Calcutta, his reporter's instinct led him to the foolhardy decision to journey to Indonesia to cover the Japanese invasion of Java. Although he got out of Java on a Dutch ship, it was too late: the next morning Japanese bombers caught up with the ship and sank it. McDougall floated on the ocean for several hours, then was rescued by a life boat, which reached Sumatra, where the occupants were soon captured. They spent the next three years in a succession of ever more brutal Japanese prison camps.
Anyone in such perilous circumstances would reach down to whatever spiritual resources they might have.  For McDougall, it was Catholicism. He had grown up across the street from Our Lady of Lourdes Catholic Church in Salt Lake City, where his mother was a fixture in the Altar Society, but his youthful life had been better known for partying than piety. While floating in the ocean, however, he promised the Mother of God that if he survived, he would "do something for Christ." 
In the prison camps, he began attending daily Mass, and although he never recorded it in his diary, he apparently began considering becoming a priest.
Mary Bell and the McDougall family learned only that Bill had survived and was in a prison camp, but were otherwise almost completely devoid of contact with him.  Mary began writing to Mrs. McDougall (whom she addressed as "Mother") and to Bill's sister Jean, and prepared to become, as she assumed she would, a member of the family if Bill returned home.
When he did return home after the war, it appeared that things would return to normal. He bought Mary an engagement ring, but they did not immediately make wedding plans because UPI temporarily assigned him to New York City.
The couple agreed to a temporary separation. Then a longer postponement became necessary because McDougall won a prized Nieman Fellowship to Harvard University. Nieman fellows have access to the Harvard libraries and any classes they wish to take, or indeed they may do anything they want for an academic year. While at Harvard, McDougall began writing the two books that narrated his Far Eastern experience and the POW years, Six Bells Off Java and By Eastern Windows.
The Priesthood Calls
It was apparently while writing those books that McDougall realized the claim that God had on his life, and the pull toward the priesthood became stronger. He announced to Mary that he wanted at least to try out life in the seminary. It turned out to suit him just fine, and he had to break their engagement.
"The Mac you knew in Shanghai died in the Indian Ocean March 7, 1942," he wrote. "Among the many mistakes he made was in trying to resurrect himself – the old self – in 1946, and live two lives. That is impossible.   Although it may take a great effort of will on your part, you must bury him, and thoughts of him, so deeply that he can never be summoned back, even in dreams."
Of course to Mary Bell this meant the end of the hopes and plans that she had cherished for the better part of a decade, and her reactions included a bit of everything: anger, grief, and, in her deeply rooted Catholicism, resignation to God's will. 
"At least losing him to God," she once said, "was better than losing him to another woman." 
To read her many letters to him, which he saved and are preserved today in the Diocese of Salt Lake City Archives, is to ride across the full spectrum of emotion.
For a while, even after Mary realized she had lost him to the priesthood, she kept pledging her everlasting love, even as she referred to him as "you who [have] denied me all the happiness I want in life!" 
When he reported to her that his Nieman year at Harvard had been "a lonely year for me," she retorted, "Mac, as if loneliness was only your bitter experience! If your year has been lonely – at least, it was your free choice.  You deliberately chose to wrench yourself away from me – and I tried hard not to struggle to keep you!"  
The Remaining Years
And what of the rest of her life? The once wealthy woman who had had fine clothes, servants and vacation homes now had nothing, with little education and few professional skills to fall back on. Her large family accepted a token compensation from the Japanese government for confiscation of their business and properties.  It was a pennies-on-the-dollar settlement that precluded them from even suing for full compensation, as other foreigners eventually were able to do. Accordingly, the rest of her life saw her working a series of poorly paid jobs, and although she dressed well and worked hard, she scraped to get by.
Mary Bell never married. In a weak moment, she succumbed to loneliness and had a brief liaison with a married man whom she had known in Shanghai. It led to pregnancy and the birth of a daughter, Clare, who is the source for much of the information in this article. 
Single parents were very uncommon in the 1950s, and Mary had to resort to a string of prevarications and obfuscations to conceal the fact. The father was absent from her life and the life of her daughter, which is probably just as well, for he went to prison on a political bribery conviction during the Nixon presidency.
McDougall, of course, went on to become a priest. He was ordained May 11, 1952 by the Most Rev. Duane G.  Hunt, sixth Bishop of Salt Lake. He served as rector of the Cathedral of the Madeleine from 1960 to 1980, was named a monsignor in 1963, and was one of the most revered priests in Utah Catholic history. He and Mary Bell were eventually able to settle into a fond but distant friendship, corresponding occasionally and even meeting once in San Francisco, where she was able to introduce him to her daughter. But she carried a torch for him, the only man she ever loved, for the rest of her life.  She died in 2000 of a brain hemorrhage, a sudden and painless death – one of the few blessings in a difficult life.
 Gary Topping retired in 2019 as the archivist for the Diocese of Salt Lake City. 
Courtesy photo/Diocese of Salt Lake City ArchivesMary Bell is shown in this 1986 photograph. ">