Taco Bell has added a surprising new item to its menu: crispy chicken wings.
But only temporarily — so if you'd like to sample the chain's latest offering, you'll need to move fast. 
The fried, bone-in-style wings are available Jan. 6-12 while supplies last. 
They're for sale after 2 p.m. local time.
The morsels also aren't available for delivery — so you may need to "cross the road" yourself to get these wings.
Wingstop, a Garland, Texas-based, aviation-themed chain specializing in chicken wings, tweeted about Taco Bell's new menu item when it launched on Thursday. 
"Leave this to the Wing experts, k," that chain tweeted. 
Taco Bell quickly responded — thanking its competitor for the "free ad" and adding a "heart" emoji.
Hungry for an extra serving of tasty facts about chicken wings? 
Read on!
By the numbers
A full order of Taco Bell's wings contains 750 calories and 40 grams of protein.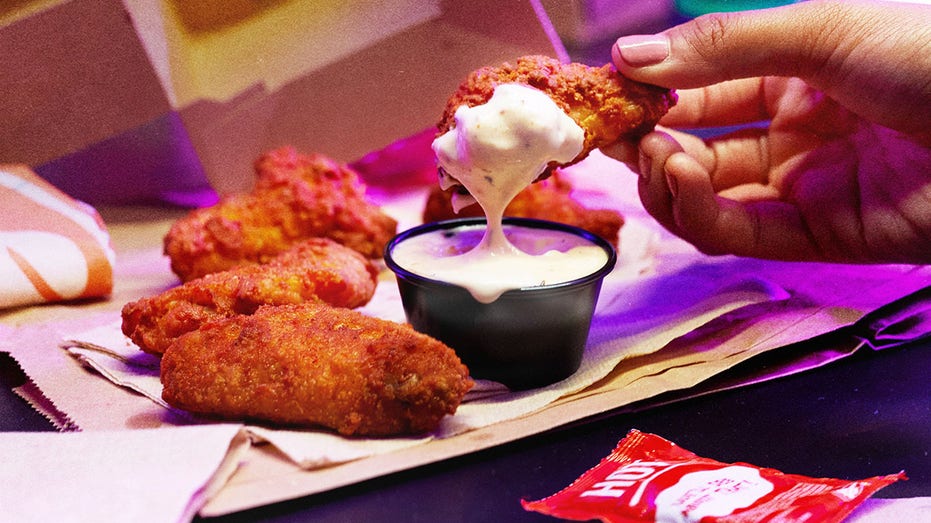 Taco Bell's Crispy Chicken Wings are now on sale — but only for a limited time.  (Taco Bell)
For $5.99, diners receive five Mexican queso-seasoned wings with spicy ranch dipping sauce.  
Customers are limited to four orders each.
Americans consumed some 1.42 billion chicken wings last year during Super Bowl weekend alone, according to the National Chicken Council. 
Suppliers are seeing double-digit sales increases on the chicken thigh darker meat alternative, as wings became pricier over the course of the pandemic, the New York Post noted this week.
A medium fried wing with coating and skin has around 160 calories per wing and provides 9.85 grams of protein, as Fat Secret reported.
A skinless drumette, on the other hand, can be as low as 24 calories and has about 3.63 grams of protein, according to the same source.
CHRISTMAS COOKIES BY THE NUMBERS: GUESS HOW MANY COOKIES SANTA EATS ON CHRISTMAS EVE?
Perdue Farms Inc., the poultry producer, has seen a 15% increase in boneless thigh sales in 2021 and a 20% increase in ground chicken, which is made of mostly dark meat, the Wall Street Journal reported.
And as Fox Business recently reported, inflation has quickly emerged as one of the biggest economic concerns as U.S. consumers grapple with the fastest price increases in nearly 40 years. Meat and poultry prices have been one of the biggest drivers of surging prices. 
In November, the Labor Department reported that meat prices were up by 16% from the previous year, with the increases most pronounced for beef and veal (20.9%), bacon (21%), pork chops (12.7%) and chicken (9.2%).
Taco Bell has also been in the headlines for its recent launch of a digital taco subscription nationwide, called the Taco Lover's Pass. 
READ MORE LIFESTYLE STORIES ON FOX BUSINESS NEWS
The service allows fans to redeem one of seven tacos a day for 30 consecutive days for $10. 
It debuted the pass after a successful test run last September in Arizona, Fox 4 News reported.