Those residing in the southern side of the United States can rejoice as the popular Hy-Vee grocery store is making its way down from the Midwest. Recently, Iowa's largest private employer has secured its location in Tennessee's Spring Hill area south of Nashville. The new store will be one of many Hy-Vee grocery stores venturing into the region.
The grocery chain has secured 17 acres at the corner of Bucker Land and June Lake Boulevard for the development, according to the Tennessean. The store will be approximately 160,000 square feet (about the size of a Costco warehouse) and is slated to open in 2023. Executives from the company presented Hy-Vee store models that included a Starbucks, Wahlburgers, DSW Shoe stores, a restaurant with a seating area, a liquor store, artisan bakery, candy store, and health market, although it's still unclear what the Spring Hill location will feature.
RELATED: 6 Things You'll See at Costco This Year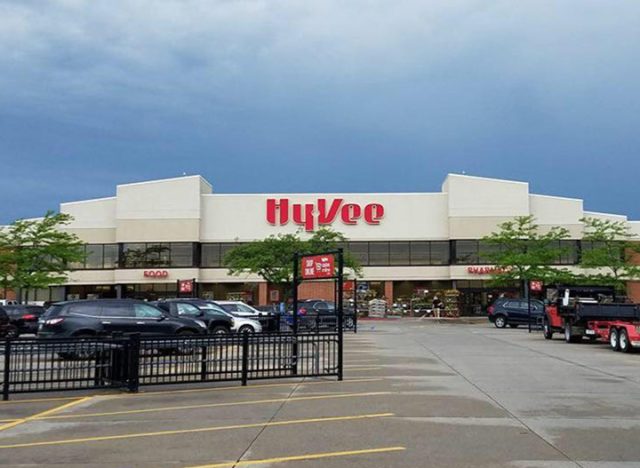 In addition to Hy-Vee's new Tennessee footprint, the store plans to open several other new locations in Tennessee, as well as in Indiana, Kentucky, and Alabama. In total it will be expanding by over 20 stores in the new southern region.
Hy-Vee is known for having an all-inclusive shopping experience. It has seen success as an employee-owned chain that promotes quality, variety, healthy living, and culinary expertise. According to its website, Hy-Vee has grown to over 285 stores in the Midwest, with a corporate location in Des Moines, Iowa.
In addition to stores including novel partnerships with other companies such as DSW, Wahlburgers, and Starbucks, the grocery has also joined Johnson Fitness & Wellness, the largest specialty fitness retailer in the U.S., allowing customers to test out and purchase fitness equipment in-store while shopping for their groceries.
Hy-Vee shoppers have also cited the grocery's dine-in and carry-out options as a reason they return. Many locations include a Chinese food counter, pizza counter, massive salad bar, and American cuisine stapes like fried chicken and meatloaf, according to Louisville, Ky.'s Courier Journal. (The city is one of the ones with a new store in the works.) Additionally, some stores include a full-service bar that allows customers to have a drink while they shop.
With busy shoppers currently looking to reduce their monthly gasoline bills, Hy-Vee's one-stop-shop experience may be the winning combination for the South. In the meantime, Grocery Prices are Skyrocketing. Here's How to Save Big.