Many would like to book their annual vacation now. But the omicron variant is unsettling those willing to travel. Nevertheless, the tourism industry is feeling optimistic.
Just a few weeks ago, it seemed as if things were looking up again for the travel industry.
Despite the pandemic, the summer season went well in many places.
And the ski resorts were also preparing for a smooth season, after having to cancel it completely in Austria, for example, during the first pandemic winter. But then the number of COVID infections shot up again, reaching record levels in Germany as well.
And now the omicron variant of the coronavirus is also on the rise. 
Many countries are therefore reinstating travel restrictions. Israel, for example, is no longer allowing tourists into the country; the UK has been classified by Germany as a virus variant area, and the Netherlands will remain in a nationwide lockdown until mid-January.
Many who would normally have planned a trip now during the peak booking period are therefore preferring to keep their options open for the time being. It's a trend that will likely continue throughout the year. "We will certainly have to continue to show a high degree of flexibility and spontaneity when traveling," tourism researcher Markus Pillmayer from Munich University of Applied Sciences told DW.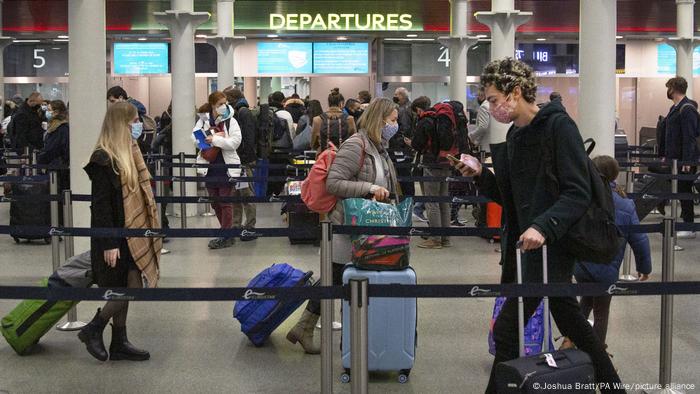 Travel regulations during the pandemic are constantly changing — many holidaymakers therefore prefer to book spontaneously
Holidaymakers are uncertain and book at the last minute
This is putting a strain on the already struggling tourism industry. Massive revenue losses are looming for another year.
If you ask the German Travel Association (DRV) how the industry views the coming year, the answer is "cautiously optimistic."
Compared to the first pandemic year, 2021 has seen a "clear revival," DRV spokesman Torsten Schäfer told DW. However, the spread of the omicron variant is unsettling many travelers and is increasingly leading to reluctance to make bookings for 2022.
Anyone booking a vacation is therefore doing so at increasingly short notice. Germany's largest tour operator TUI has also confirmed this. Nevertheless, it expects to achieve "a largely normalized booking level" for the summer of 2022. The traditionally popular vacation destinations in the Mediterranean region, such as the Balearic Islands, Greece and Turkey, are already in demand. Austria, Switzerland and Italy also remain popular, TUI said.
And domestic vacations will also play a major role in Germany, as they have in the past two years. "Holidays at home have experienced a real renaissance," says tourism researcher Pillmayer. In his estimation, this is a trend that is here to stay. Nevertheless, he says, the domestic tourism industry also continues to struggle with short-term regulations and political decisions. "The general conditions continue to be disastrous for the industry," says Pillmayer.
Long-distance travel remains difficult
Those who want to go further afield often encounter even greater obstacles. Many countries continue to maintain entry restrictions, even tightening them because of omicron, such as Thailand. The country had only recently reopened its borders to holidaymakers from abroad at the beginning of November, but now tourists have to go back into quarantine.
Australia, New Zealand and Israel are also not allowing any holidaymakers to enter.
Other popular destinations such as the USA or the Maldives, on the other hand, have reopened. But that can change quickly.
To be on the safe side in this confusing situation, vacationers have increasingly been booking package tours and with travel agencies since the beginning of the pandemic. Major tour operators such as TUI are also offering flexible cancellation policies and are covering some of the costs incurred for quarantine at the vacation destination.
Which vacation countries will be able to win the trust of travelers at all will also depend on how the local government and tourism industry deal with omicron, says tourism researcher Pillmayer.
The vaccination status of the holidaymakers themselves is also becoming increasingly important. Countries such as Costa Rica and the US only allow fully vaccinated people into the country, while on the Cape Verde Islands, for example, it requires arrivals to be either fully vaccinated or recovered from a COVID infection as well as present a recent negative test. Most operators also require completely vaccinated travelers on cruises.
Those who want to travel within Germany will probably also need to be vaccinated. Almost everywhere in the country, there is a requirement for vacationers to be either vaccinated or recovered.
From December 28, the rules will also be tightened further. For example, only 10 people will be allowed to meet privately. The possibility of a general vaccine mandate is also being discussed.
The tourism industry lacks personnel
The extent to which the tourism industry in Germany can prepare for full hotels and restaurants remains questionable. Many employees have now turned their backs on the industry and moved to retail or the automotive industry, for example. According to tourism researcher Pillmayer, the situation is dramatic: "We are no longer just talking about a shortage of skilled workers, but a general shortage of employees.
In a recent survey by DRV, two-thirds of tour operators and 50% of travel agencies said they had lost employees during the pandemic because they had decided to leave the industry. Sixty percent of respondents also said they were having trouble filling vacancies.
Finding replacements is difficult, Pillmayer says, partly because the industry has suffered damage to its reputation due to media coverage and political decisions. New workers can only be lured with higher salaries, says the tourism researcher — so vacations are likely to become more expensive. Recruitment campaigns will also be necessary, he said. "People will have to search worldwide — and are already doing so — even more than they already did before the pandemic," Pillmayer said.
Best Travel Destinations for 2022 revealed

The return of international travel

COVID-19 kept travelers home for over a year, but many are now making plans for trips in 2022. This picture gallery is to whet the appetite for travel and it shows some of the top destinations featured in Lonely Planet's "Best in Travel 2022" guide. Each was chosen for its topicality, unique experiences, "wow" factor and its ongoing commitment to sustainable tourism practices.

Best Travel Destinations for 2022 revealed

Let's get back out there!

In the city category, one German town made it into the top 3. No, it's not Berlin. Among the rank of regions, there is one that probably few people have ever heard of. In the country category, one of the smallest in the world (first photo) made it to the top spot and one that you might guess made it to the second place (this photo). Curious?

Best Travel Destinations for 2022 revealed

3rd place in cities: Freiburg, Germany

Lonely Planet describes Freiburg as one of the most youthful, relaxed and sustainable cities in Germany. There are plenty of green spaces and twice as many bicycles as cars. The quaint old town is car-free. The town hall for the city's 230,000 inhabitants is the first in the world with a zero-energy concept. There are also beautiful alleys, facades and the Black Forest just outside the city.

Best Travel Destinations for 2022 revealed

2nd place in cities: Taipei, Taiwan

A city of many facets: Western influences meet Chinese and Japanese, old buildings meet modern ones. Temples of different religions can be seen almost everywhere. Housing is affordable in this city of 2.7 million people, and health care is good. There are many bars and restaurants, and parades are held throughout the year. Taipei is also considered the most LGBTQ-friendly city in Asia.

Best Travel Destinations for 2022 revealed

1st place in cities: Auckland, New Zealand

One word: unique. Auckland has 53 volcanoes, more than 50 islands, three wine regions and many beaches. The city of 1.5 million inhabitants is located on an estuary between two harbors. There is much to see around it: Rainforests, surfing beaches, geothermal springs, rare birds, whales, dolphins, and penguins. If you want to fully immerse yourself in the charm of the place, you need a local guide.

Best Travel Destinations for 2022 revealed

3rd place in regions: Xishuangbanna, China

Xishuangbanna is a remote region in southern China, bordering Myanmar and Laos. Formerly a popular backpacker destination, the region now profits from massive investment in tourism. Among the Chinese, the region is popular for its cultural diversity, varied cuisine and warm weather. The region is also benefiting from a new train route to Laos and better air connections.

Best Travel Destinations for 2022 revealed

2nd place in regions: West Virginia, USA

Few inhabitants, few tourists, lots of untouched nature. The state is located in the eastern US in the Appalachian Mountains and is referred to as "The Mountain State." It is moving away from logging, fossil fuels, coal and salt mining, to more tourism. Hiking, mountain biking, kayaking, climbing, base jumping from the New River Gorge Bridge — it's all possible, Lonely Planet says.

Best Travel Destinations for 2022 revealed

1st place in regions: Westfjords, Iceland

Far away from mass tourism and only connected to the mainland by an estuary of about 7 kilometers (4.3 miles). Those who venture here are rewarded with rich wildlife, quaint villages and spectacular scenery — in other words, Iceland in the extreme. The inhabitants of the villages, which were founded by Vikings about 1,000 years ago, focus on nature — and on avoiding plastic.

Best Travel Destinations for 2022 revealed

3rd place in countries: Mauritius

Rocky island with great beaches in the Indian Ocean — or in short, paradise. This is how Mark Twain compared the island to the east of Madagascar. Hiking, diving, snorkeling? No problem! And animals! No place on earth is said to have saved more endangered bird species. If you're more interested in whales and dolphins, you'll find them near the shore. And the inhabitants? Relaxed!

Best Travel Destinations for 2022 revealed

2nd place in countries: Norway

Norway is on top — and not just geographically. It's considered the world's most livable country and is way ahead in education, equality, health care, income, quality of life and sustainability! Some 99% of its electricity comes from hydropower, and almost 60% of its cars are electric, making it the world leader. By 2030, the country aims to be climate neutral. And then there's the landscapes!

Best Travel Destinations for 2022 revealed

1st place in countries: The Cook Islands

One of the most remote and smallest countries on earth — scattered over 15 volcanic islands with a combined area smaller than Malta. Fantastically beautiful — and committed to the environment. In 2017, the 1.9-million-square-kilometer Marae Moana Marine Park was declared the largest protected area on earth. If you love the colors blue and turquoise, this is the place for you.

Best Travel Destinations for 2022 revealed

The world is calling

After these pictures of beautiful places, it is probably difficult to look up from your computer or cell phone. It does make a difference whether you are sitting at home at the dining table, in the office at the desk — or on the Cook Islands at a table in the sea. Are you aching to travel again? Hold out a little longer if health rules require it, but now could be the time to start making plans.

Author: Marco Müller