8 hr 14 min ago
US secretary of defense orders 500 additional US troops deploy to Europe
From CNN's Ellie Kaufman and Barbara Starr
Secretary of Defense Lloyd Austin ordered additional troops and US military assets to be deployed to different parts of Europe amid the ongoing Russian invasion of Ukraine to further support the US's NATO allies, a senior US defense official told reporters on Monday. 
The Defense Department will send a total of 500 troops in this new deployment, the official said. The deployment will include sending KC-135 refueling aircraft to Greece, but the official could not say how many aircrafts would be sent or where in the US they will be coming from. 
An air support operation center will be deployed to Poland and Romania, and an ordinance company and a maintenance company will be sent to Germany, the official said.
The ordinance and maintenance companies will provide "additional logistic support to the first armored brigade combat team, third infantry division" in Germany which is already deployed there, the official said.
"It's only 500, small units, enablers, we said at the get-go of deploying forces that we would not rule out additional forces to include enablers, and these units are very much in support of forces that were already sent forward," the official said.
With these additional deployments, the US now has about 100,000 US military personnel either on rotational or permanent orders stationed in Europe right now, the official said.  
The decision to send these troops and military assets were "based on conversations that the secretary had with the chairman and with Gen. (Tod) Wolters," the commander of US European command, "that these additional enablers would be useful for the forces that are already" in Europe, the official said.
The additional deployment "were already kind of queued up to go, and again fully in support of our efforts to help defend NATO airspace if needed," the official added.
7 hr 45 min ago
Here are the latest civilian casualty figures in Ukraine, according to a UN spokesperson
From CNN staff
UN Human Rights officials say just more than 1,200 civilian casualties have been recorded in the Ukraine, with 406 people killed, noting it is difficult to identify the actual number of deaths and injuries, a UN spokesman said Monday. 
The World Health Organization says that there have been nine attacks affecting health facilities, health care workers and ambulances since Feb. 24, according to Stephane Dujarric, UN spokesperson. 
Earlier Monday, the Office of the UN High Commissioner for Human Rights reported the 406 civilians killed, but also acknowledged that the real figures are likely "considerably higher."
More from Dujarric: Dujarric also said that in a phone call between the secretary general and the minister of defense of the Russian Federation, it was confirmed a team from the UN Office for the Coordination of Humanitarian Affairs had arrived in Moscow.
The United Nations continues to call for safe unimpeded sustained access to all conflict areas.
At 3 p.m. ET Emergency Relief Coordinator, Martin Griffiths, and the UNICEF'S Executive Director, Catherine Russell will brief the Security Council on the situation in Ukraine.
8 hr 24 min ago
Foreign students affected by invasion get offer to continue their studies in Hungary
From CNN's Nimi Princewill and Stephanie Busari
Hungary has offered foreign students whose studies were disrupted as Russia invades Ukraine an opportunity to continue their education at Hungarian universities, authorities have said.
"Hungary is offering foreign students who escaped #UkraineRussianWar (India, Nigeria, other African countries) to continue their studies at Hungarian universities," tweeted Dr. Attila Demkó, the head of Hungary's Centre for Geopolitics.
"All third-country refugees (mostly Africans) were accepted without problems and repatriated if they wished so," Demkó added in his Sunday tweet.
Some Nigerian evacuees from Ukraine have said they are relieved to be back home even though they anticipate a return to the eastern European country currently repelling Russian troops.
"I'm glad I'm safe but I'm sad that my education was cut short," said 27-year-old Oru Dominic Gabriel, who was one of many Nigerians evacuated from Romania on Friday, where they had fled to escape the war in Ukraine.
More than 400 Nigerian citizens fleeing the war in Ukraine were flown home over the weekend in chartered flights provided by the Nigerian government, according to the government agency Nigerians in Diaspora Commission (NIDCOM).
The first batch of returnees arrived in the capital Abuja early Friday from Romania, according to NIDCOM. The second batch of evacuees arrived from Poland later Friday, while the third batch landed in Abuja close to midnight Friday from Hungary, NIDCOM said in a series of tweets.
The returnees were handed a stipend of $100 by the foreign ministry officials upon arrival in Abuja, Gabriel told CNN on Monday. He was in the final year of his medical studies at Ukraine's Ternopil National Medical University.
He told CNN about his intention to return to the war-torn country.
"I'd go back [to Ukraine] to complete my education. I was just two months away from completing my classes. Ukraine is home to me," Gabriel said.
Adetomiwa Adeniyi, another returnee and final year medical student at the Ternopil University, told CNN that returning to Ukraine was the hope of many returnees.
"To most of us, Ukraine is our home," Adeniyi, 24, told CNN.
However, he is considering study opportunities elsewhere given the uncertainty of the war in Ukraine.
"I'm still looking at transfer alternatives both home and abroad. I had just four months left to complete my studies and finding somewhere with the same tuition bracket [as Ukraine] is almost impossible. Even private universities here [in Nigeria] are more expensive," Adeniyi said. "War is always protracted, not to talk of the fallout period for rebuilding … So, it's a whole basket of uncertainty, but at least we're alive."
Hundreds of international students, many of them Nigerians, remain trapped in their hostels in Sumy, in northeast Ukraine, surrounded by Russian troops and amid explosions and gunfire.
Nigeria's foreign minister Geoffrey Onyeama told CNN on Thursday that his office was aware of the plight of the stranded students, and that arrangements were being made for their evacuation.
8 hr 38 min ago
Senior US defense official: "Nearly 100%" of Russia's pre-staged combat power is now in Ukraine
From CNN's Michael Conte
Russia has committed "nearly 100%" of the combat power that had been staged on the border of Ukraine and in Belarus, according to a senior US defense official.
Russia has also launched more than 625 missiles against Ukraine, according the official.
The official said that while the airspace over Ukraine is still contested, the US assesses that Ukrainian President Volodymyr Zelensky has "the vast majority of his fixed-wing aircraft" available, as well as surface-to-air weapons to defend Ukrainian airspace.
8 hr 21 min ago
UK prime minister: Coordinated energy sanctions, including Russian oil ban, still "very much on the table" 
From CNN's Niamh Kennedy in London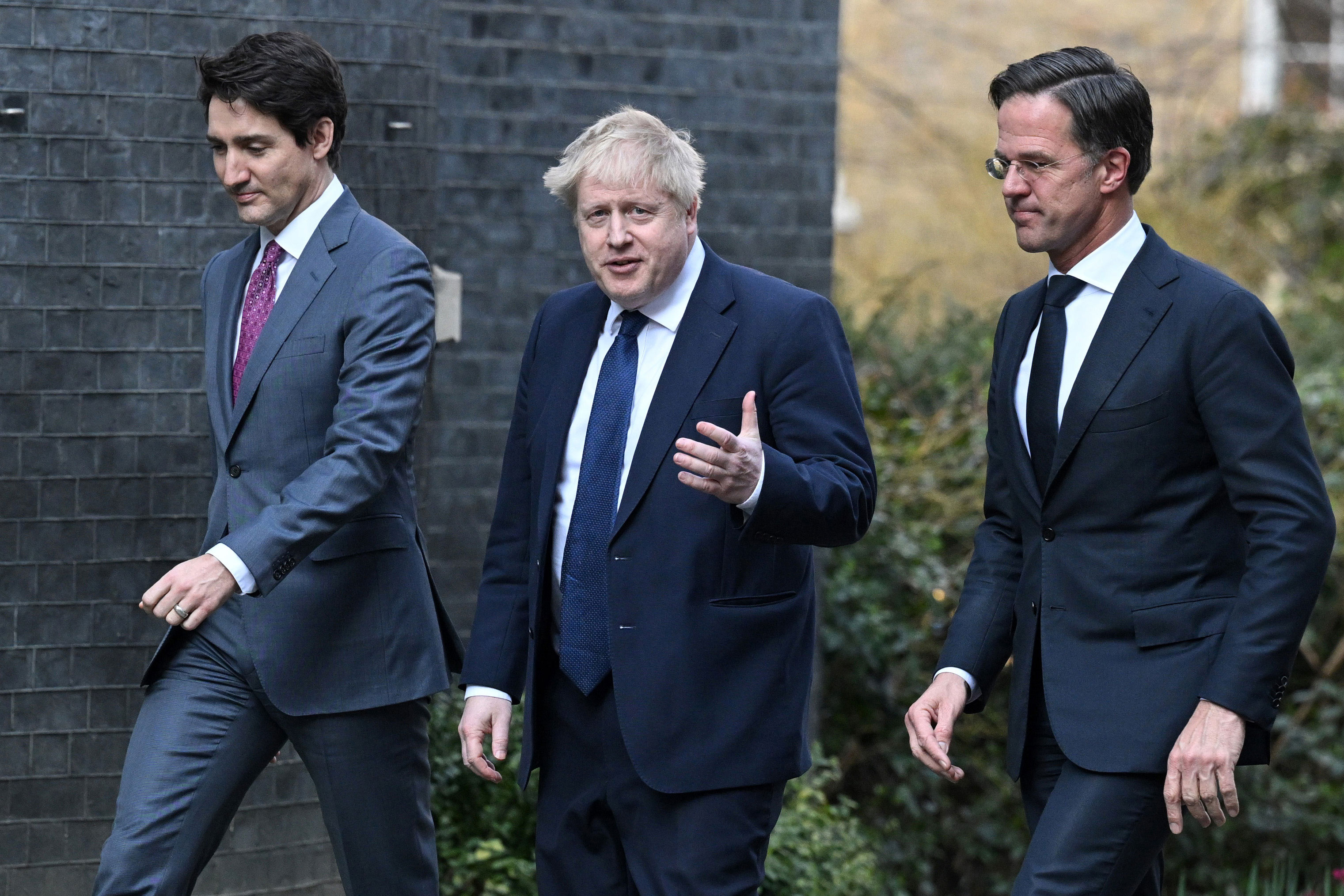 Coordinated energy sanctions against Moscow, including a ban on Russian oil, are still "very much on the table," British Prime Minister Boris Johnson said Monday.  
Speaking during a news conference alongside his Dutch and Canadian counterparts in London, Johnson said it was the "right thing" to move away from Russian hydrocarbons.  
On Sunday, US Secretary of State Antony Blinken told CNN's Jake Tapper that the United States is "now talking to our European allies and partners to look at a coordinated way" to ban Russian oil. 
Responding to a question as to whether Blinken was wrong in his remarks, Johnson replied, "No, I don't think Tony Blinken was wrong."  
"In the sense that we're all together now moving very, very fast and seeing that something that perhaps three or four weeks ago we would never have considered is now very much on the table," Johnson continued.  
Countries need to consider how to move away from Russian hydrocarbons "as fast as possible," Johnson added.  
"We're going to work together on making sure that we all have the substitutes and the supplies that we need," Johnson continued.  
8 hr 38 min ago
Russia claims that it will "try again" to discuss evacuation routes with Ukraine in latest round of talks
From CNN's Niamh Kennedy in London
Russia will "try again" to discuss evacuation routes with Ukraine during talks on Monday, according to Russia's chief negotiator for the discussions.
Speaking on his way into the third round of talks in Belarus, Vladimir Medinsky said the two sides will discuss "the same issues, political settlements, international humanitarian issues and military settlement" as last week's talks. 
"We will try again" to discuss evacuation routes with the Ukrainian side, Medinsky said, lamenting their failure to come about last week. 
On Monday, the Russian defense ministry announced in a statement that it will open evacuation corridors from 2 a.m. ET from the Ukrainian cities of Kyiv, Kharkiv, Sumy and Mariupol. 
Ukrainian Deputy Foreign Minister Iryna Vereshchuk responded to the statement, demanding that Russia "accept options for our routes, as well as to establish a ceasefire, which we will agree on."
According to state-owned television Russia 24, the talks are now underway. The first two rounds of negotiations did not yield tangible results. 
8 hr 30 min ago
Top US general meets with Romanian, Latvian and Estonian defense leaders amid Russia-Ukraine crisis
From CNN's Ellie Kaufman
Chairman of the Joint Chiefs of Staff Mark Milley met with the Romanian Chief of Defense Staff General Daniel Petrescu during a visit to Mihail Kogalniceanu Air Base in Romania on Monday, according to a readout from Joint Staff spokesperson Col. Dave Butler.
"The military leaders discussed Russia's ongoing invasion of Ukraine and NATO's response, including the deployed and rotational U.S. military forces in Romania working with NATO Allies and partners to deter Russian aggression and assure NATO," the readout said.
Milley also met with defense leaders from Latvia and Estonia on March 6, according to separate readouts. In Latvia, Milley met with Latvia's Minister of Defense Artis Pabriks and Commander of the Latvian National Armed Forces Lieutenant General Leonids Kalnins during a visit to the Joint Headquarters of the Latvian National Armed Forces, the readout said.
The military leaders discussed the "ongoing invasion of Ukraine" in their meetings, including "the deployed US military forces in Latvia working with NATO allies and partners to deter Russian aggression," the readout said.
In Estonia, Milley met with Estonia's Chief of Defence Lieutenant General Martin Herem during a visit to Ämari Air Base, a separate readout said. The two leaders also discussed the ongoing invasion of Ukraine and "NATO's response," the readout said.
9 hr 17 min ago
Germany and Hungary do not support sanctions on Russian energy 
From CNN's Anna Stewart, Boglarka Kosztolanyi and Inke Kappeler
German Chancellor Olaf Scholz said Europe cannot secure its energy supplies without imports from Russia. 
Energy was deliberately left out of previous rounds of sanctions, Scholz said in a news release Monday, adding Russia energy is of "essential importance" to the general, daily lives of its citizens. 
Meanwhile, Hungary's finance minister Mihaly Varga said his government would not support any sanctions on Russian energy.
In a Facebook video posted Monday, he spoke of the substantial damage existing sanctions on Russia have had on its economy.
"Those who ask for the expansion of the sanctions, want the Hungarian people to pay the price of the war."
Remember: The EU relies on Russia for 40% of its gas needs and about 27% of oil imports. 
When asked about the potential for sanctions on Russia energy in a news conference Monday, UK Prime Minister Boris Johnson said options that were unthinkable three weeks ago, are now "very much on the table."
"We have to consider how we can all move away as fast as possible from dependence, reliance on Russian hydrocarbons, Russian oil and gas. Everybody is doing that. Everybody is on the same journey. Some countries will find it faster and easier than others," he added.  
On Sunday, US Secretary State Antony Blinken told CNN that the US is working with its allies in Europe to look into the possibility of banning Russian oil imports in an effort to further punish the country. 
The fallout of an import ban on Russian oil would have limited impact in the US given Russia represents less than 2% of its overall oil imports.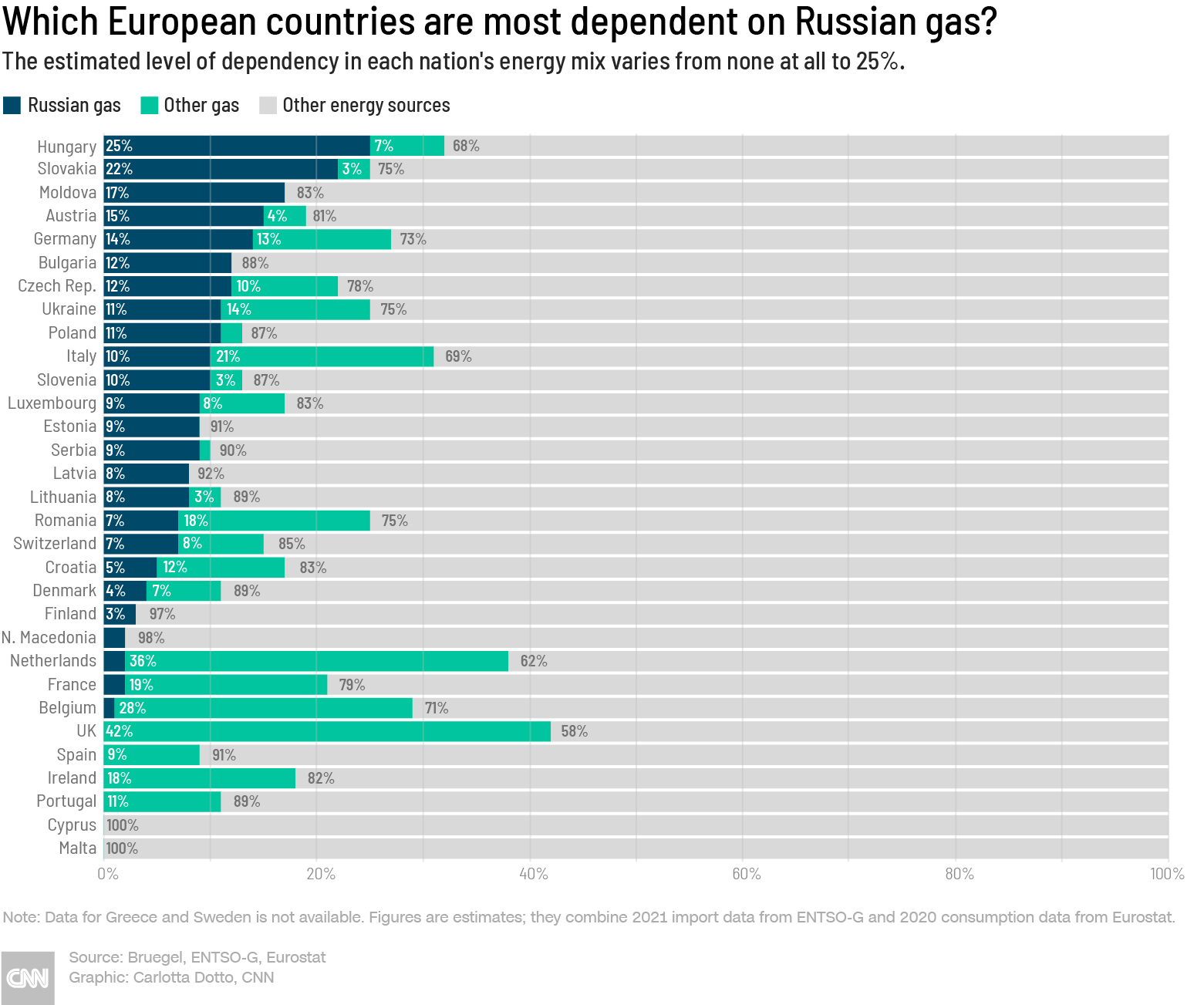 8 hr 53 min ago
Explosions from military strikes and large plume of smoke seen in Mykolaiv
From CNN's Paul P. Murphy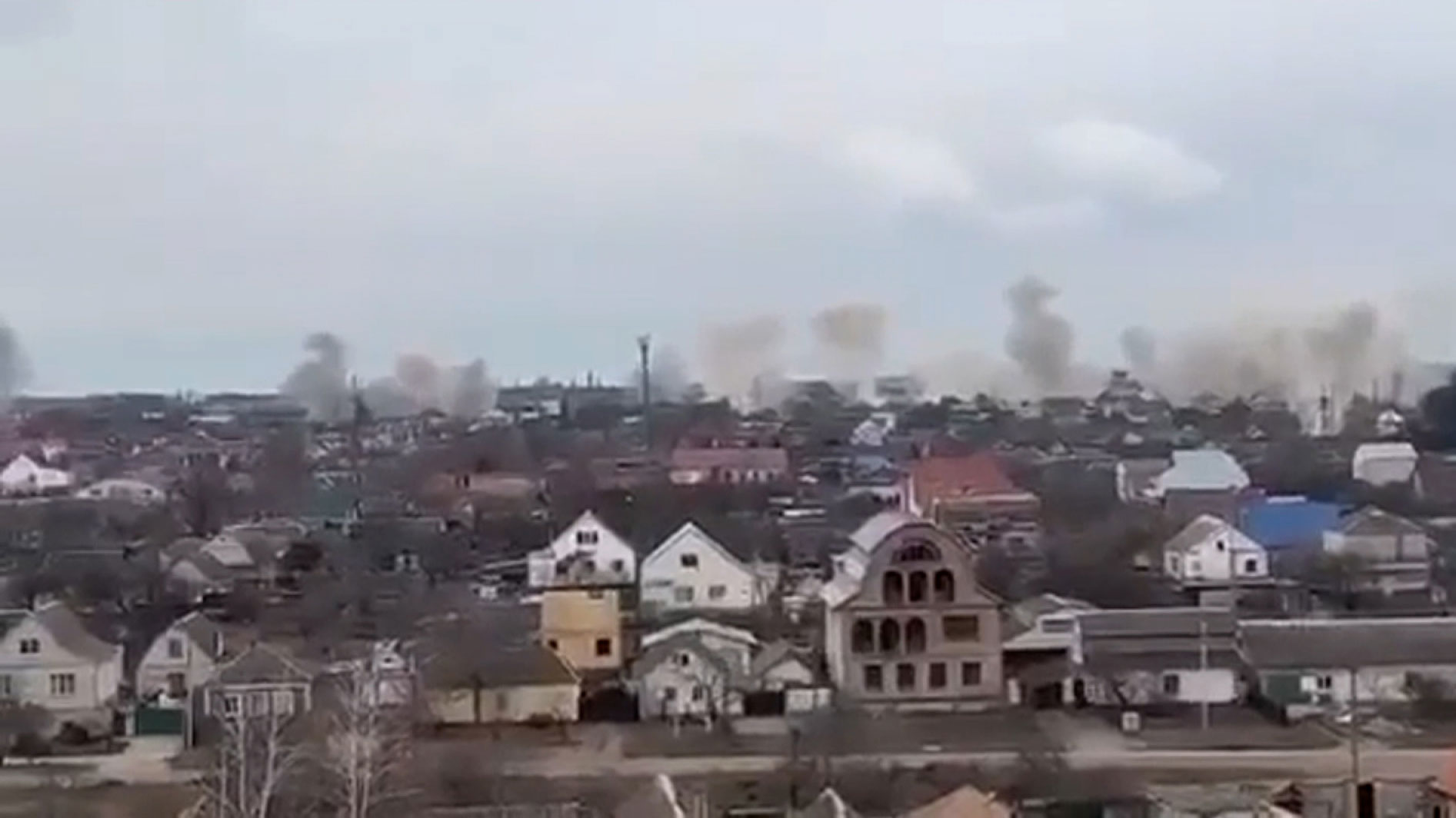 Intense fighting in Mykolaiv is continuing on Monday, as video shows new explosions from military strikes and large plumes of smoke around the Ukrainian city located about 250 miles south of Kyiv.
CNN has geolocated and verified the authenticity of the videos. 
In one of the videos, taken in the Korabelnyi district — the southern-most neighborhood in Mykolaiv — explosions from military strikes are seen over a residential area. In recent days, fire fights between the Ukrainian and Russian militaries have centered around the military base on the southeastern side of the city.
In a video posted to Telegram, the regional administrator for the Mykolaiv area, Vitali Kim, claimed the Russians were retreating after they lost two tanks in a "tank battle" at the airport. Kim also said some of the Russian forces had been evacuated from the area by helicopter. CNN has been unable to verify Kim's claims, and he did not offer any evidence to support them.
Another video shows a dark plume of smoke rising from the northern neighborhood of Solyani.