Decerry Donato is an editorial intern at dot.LA. She received her bachelor's degree in literary journalism from the University of California, Irvine. She continues to write stories to inform the community about issues or events that take place in the L.A. area. On the weekends, Decerry can be found hiking in the Angeles National forest or sifting through racks at your local thrift store.
Last week, the app FlickPlay announced it was partnering with Santa Monica (which is where the company is based) so that it would become the first U.S. city to have access to the metaverse through its app.
After all the Facebook hype, I wanted to find out what the metaverse looked like and why a city would sign on.
So, standing on the bustling corner of Santa Monica Blvd and 3rd Street, I scanned FlickPlay's interactive map on my phone in search of tokens.
---
A blue coin users can pick up in the FlickPlay app.
Previously a social wallet app designed to work with various types of digital art and collectibles; the app now works in downtown Santa Monica as a way both to draw you into storefronts and gamify the experience. That could be good business for brick and mortar stores and the city's tax base.
Finding tokens wasn't too difficult: The map was filled with glowing yellow, blue, and green dots indicating I was in the right place to cash in on tokens in FlickPlay's new metaverse social app.
Similar to TikTok, the explore page on FlickPlay features full-screen, looping videos set to music that often include people dancing and utilizing their exclusive collectibles as a backdrop. The experience can be enthralling.
As a user, you have the option to like, comment and share on other social platforms. While apps like TikTok and Instagram focus on the subject, FlickPlay is focused on the landscape around them – bridging the gap between physical and digital spaces. At one point I became disoriented from the physical world.
FlickPlay allows people to collect tokens to unlock and show off videos through the app using their rare filter-like collectibles – most of which have a limited quantity.
Currently, the app doesn't have any challenges, but like the NFTs there is a scarcity factor that increases the value of the collectibles. This gives the user the opportunity to monetize their digital collectibles. Like most mobile games, FlickPlay is free to download, but offers players the opportunity to use the tokens they earn in exchange for tangible goods.

Tokens are categorized into three colors: yellow, blue and green, and can be earned by visiting the map on the FlickPlay app. The yellow coins act as the player's currency to unlock experiences or purchase items from local retailers, blue coins unlock collectibles, and green coins (the rarest) come with a reward.
If a token is nearby, you tap on its location on the map and the token will appear on your phone. I saw one token was further away and the app led me right to it. The token amount I received ranged from a value of 150-250 per coin and was stored in a digital wallet within the app. That token brought me to a Dodger's Clubhouse on the Promenade.
While I received some odd looks walking around with my phone pointed toward the sky—there were tokens to be had!— I also saw some curious faces.
If FlickPlay founder and CEO Pierina Merino is right, that will soon be a familiar scene and everyone will be on the metaverse. "In the next two years, we're all going to own something digital," she said. "We are all going to have some sort of wallet or digital inventory of objects."
Merino established FlickPlay in 2019 and has grown the company to include 20 employees. Earlier this year, FlickPlay raised $5 million in seed funding backed by global VC firm Lightspeed Ventures and co-lead by SF-based seed investor, Abstract VC.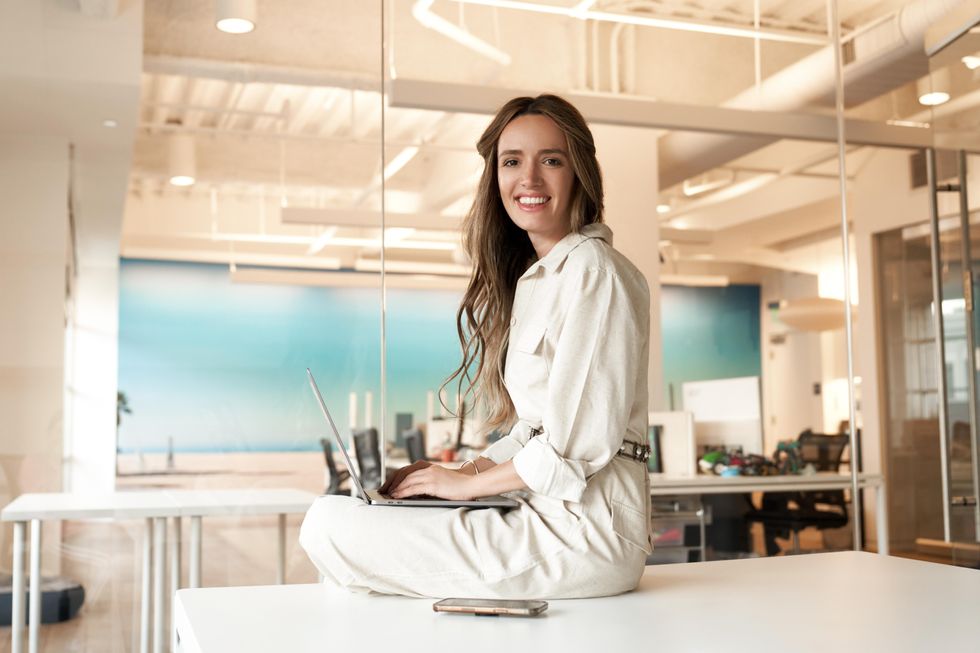 FlickPlay founder and CEO Pierina Merino hopes to create more activity in parts of Santa Monica that have traditionally been less trafficked.
Before Merino founded FlickPlay, she launched the startup Pemier, a 3D printed product line that was picked up by Nordstrom in over 30 stores six months after its launch in 2016.
But what was lacking was the inability to interact with the consumer. "As a founder, it was crazy to think that I made it to one of the top retailers in the U.S. and I was still not talking with my customer," she said.
During this time she saw how the Museum of Ice Cream created communities where people can create shareable content as well as Pokemon Go's impact in the way that people interact with the real world. With FlickPlay, Merino is hoping she can help create more activity in parts of Santa Monica that have traditionally been less trafficked—and are thus more susceptible to crime.
"It has been proven that activating unused city spaces with art reduces crime rates," she said. "There is no better incentive for us than building a metaverse ecosystem with strong values and purpose that have a direct impact in the world we live in."
Merino believes her app can help the local economy, too. "You're not only activating the city from a creative standpoint, and enabling the city to control the narrative and the storyline of how people interact with their different locations, but it also involves local retailers," she said.
As someone who has never been interested in gaming, I found the app entertaining. It even brought me to stores I've never been to before, like BookMonster. Even though I didn't earn enough tokens to purchase physical items in one of the retailers, I'd consider coming back to rack up more tokens once more local retailers jump on board which would incentivize shoppers like myself to go out and play.
After about three hours of participating in the metaverse, My token counter hit just over 2,000—finally I had enough to unlock some rare collectibles. I gravitated toward the Los Angeles Lakers collectible which cost me 900 tokens. Once unlocked, I was able to "flex" the purchase by showing off my new collectible in a video.
Merino, meanwhile, has plans to expand FlickPlay to other cities — including New York, Miami and Chicago — as early as next year. FlickPlay has also partnered with some local shops like fashion retailer JapanLA and Mexican restaurant Lanea to allow users to shop using their digital wallets.
"I like moving people through our cities," she said. "At the same time, all these new consumer behaviors are really tied to how we're building our digital identity and the value that these offline interactions are having on how people perceive us online."